At a Glance
Expert's Rating
Our Verdict
Editor's note: The following review is part of Macworld's GemFest 2010 series. Every day from mid July through August, the Macworld staff will use the Mac Gems blog to briefly cover a favorite free or low-cost program. Visit the Mac Gems homepage for a list of past Mac Gems.
Flash cards and practice tests are an effective aid for learning words, dates, and other data requiring rote memorization. I've long been a fan of iFlash, but today's Gem, Cram, is also worth considering.
Cram lets you create tests and browse them using a Mail-like window with a list of folders on the left, the list of tests in the selected folder to the right, and a preview and summary of the selected test at the bottom. A useful Example Test setting creates a sample test to help you learn how to use the program.
To create a new test, you click the New button, give the test a name and description, and choose your options: whether questions should be asked randomly or in sequence, whether the order of multiple-choice answers should be randomized, and whether or not the test should have a time limit. Then click the Edit Questions button to add your questions.
Answers must be multiple-choice—with one or multiple correct answers—but the questions can be just text or can include an image or an audio file. An interesting option is the Answer Bank. If you've got many questions to enter, and some of those questions have the same answer as other questions, you can first enter a list of answers, one per line, in a single text box. When creating the questions, you can then choose the correct answer from your list instead of having to retype common answers.
Once you've created a test, Cram's Flash Cards mode lets you study the test's questions and correct answers using a flash card-like interface. When you're ready to be quizzed, Test mode presents the questions in an electronic-test format, letting you choose from among the possible answers using either the keyboard or mouse.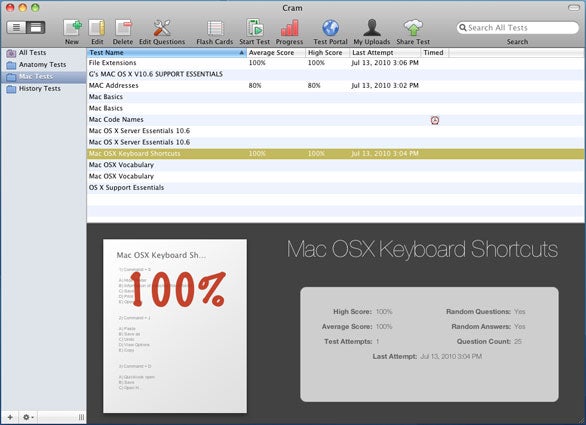 At the end of a test, you see a summary that includes the date and time; your score; and a list that includes each question and the correct answer and your result for each. Cram saves these results, letting you go back and view past test details at any time by clicking the Progress button. The main test list also displays your average and high score for each test, as well as the date of your last practice session for each test.
You can easily duplicate tests or split them into smaller tests, although I wish you could select multiple tests and then start the test mode to be tested on the combined content—this would make it easier to split a larger topic into smaller, focused study sections, but still test on all of them together. I'd also like to see better keyboard control, and it would be great if you could import data from, say, a spreadsheet or text file.
However, you can download pre-made tests from the Cram Test Portal or Quizlet.com—the latter hosts thousands of free tests—and you can upload your own tests to the Cram Test Portal for other Cram users to download. There's also an iPhone-app version of Cram; you can sync your tests and flash cards from the Mac version to your iPhone.
Want to stay up to date with the latest Gems? Sign up for the Mac Gems newsletter for a weekly e-mail summary of Gems reviews sent directly to your Inbox.
Our 186-page Mac Gems Superguide is a veritable greatest hits of Mac Gems. It's available as a PDF download, PDF on CD-ROM, or as a printed book. Learn more about the Mac Gems Superguide.
[Dan Frakes is a Macworld senior editor.]