For those unfamiliar with the science fiction classic "Barbarella" (the naming rights of which we may assume Doublesix didn't want to pony up for), the film was a comparably bold and uncomprising creative venture inspired by a naughty French comic book. In this iPhone sci-fi brawler, you play as Babeorella, a buxom, halter-topped hobgoblin with a nonetheless striking resemblance to Jane Fonda. The story is self-effacingly simple: Our "titular hero" (their pun, not mine), having crashed her space-ship, is immediately set upon by robots.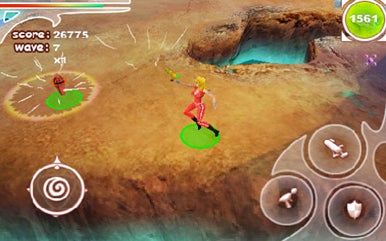 To this end, Babeorella wields a number of pixelated items of various size against a host of household appliances. There are two tiers of attacks grouped according to range, so attacking the roomba nipping at your heels will employ a surprisingly destructive whip, while the angular, floating dustbins may be dispatched with her hair dryer sidearm. For the heavy attacks, Babeorella employs a novelty-sized accordion/hammer, and a strange device that can only be described as a Shop-Vac of lethal invention. To assist, there are handy health, experience, and damage power-ups, as well as an intuitive experience-based upgrade system, which presents a promising, if unnecessary layer of complexity to the questionable character of this "interactive experience."
Brawlers of this ilk usually go light on the finer elements of character and plot, and "Babeorella" is no exception. Yet on its own, the gameplay is already limited and monotonous; the halfhearted (yet occasionally witty) stabs at irony do little to alleviate this. While the tongue-in-cheek writing and comic-book design might suggest this is all not meant to be taken seriously, there is really no excuse for such boring and mediocre "entertainment."
The Takeway: Unless you have a sadomasochistic relationship with your free time, don't allow this dumb game onto your smartphone.
[Folahan Olowoyeye is a frequent contributor to Macworld and pretty deadly with a hair dryer sidearm.]