At a Glance
Expert's Rating
Our Verdict
Editor's note: The following review is part of Macworld's GemFest 2010 series. Every day from mid July through August, the Macworld staff will use the Mac Gems blog to briefly cover a favorite free or low-cost program. Visit the Mac Gems homepage for a list of past Mac Gems.
The open source community has worked hard to develop apps with professional-level features. One of the shining examples is Inkscape, a free drawing application that uses X11, a way to run Linux apps on the Mac without a lot of trouble. When you start Inkscape, X11 loads automatically. The menus do not match the Mac's normal user interface but when you save files, they are saved to the Finder.
For basic drawing tasks, Inkscape is just as powerful as Adobe Illustrator. You can add a plethora of boxes and multi-sided shapes, 3D boxes, freehand drawings, and intricate swirls. Inkscape provides advanced options for editing specific points on a geometric shape and tweaking your illustration down to the exact vector coordinates.
For customizing your workspace, you can add rulers, guides, and a snap-to-grid. There are countless options for controlling any shape's exact position, layering, color, and size. The program is also highly extensible – there are extra plug-ins and menu options for, say, adding an airbrush look to a box or turning a piece of clip art you imported into an editable object. Export options are also extensive–you can save your document as an EPS file and load it into Illustrator, or export as a bitmap image file.
The only slight complaint with Inkscape is that it tends to run slower than a native Mac application. If your Mac is fast enough, you may not notice the slowdown, though.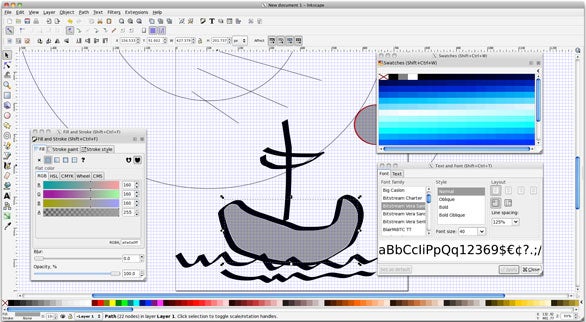 Want to stay up-to-date with the latest Gems? Sign up for the Mac Gems newsletter for a weekly e-mail summary of Gems reviews sent directly to your inbox. You can also follow MacGems on Twitter.
Our 186-page Mac Gems Superguide is a veritable greatest hits of Mac Gems. It's available as a PDF download, PDF on CD-ROM, or as a printed book. Learn more about the Mac Gems Superguide.
[John Brandon is a 20-year veteran Mac user who used to run an all-Mac graphics department.]