Not all brains think alike. Some people can work out complicated ideas in their heads, some need to write it down in words and numbers, and others find that making a diagram with illustrations and arrows is the best approach. Inspiration 9, a tool for creating diagrams and mind maps, is aimed at that last group, the "visual thinkers."
Inspiration's diagramming feature offers the standard capabilities you'd expect. Fundamentally, whether you're making an organization chart, seating chart, or sentence diagram, you're dropping text and shapes on a canvas and drawing lines to connect them. Inspiration has tools for drawing ovals, polygons, and irregular shapes, but you can also use the scores of "symbols" (think clip art) for the objects in your diagram. Connect any two objects together and the line between them will adapt as you move the objects around on the canvas. If you're not happy with the results, a handy Auto-Arrange feature will corral the pieces of your chart into a neat, compact configuration.
For brainstorming or recording ideas that don't neatly fit into a chart, Inspiration offers mind maps. Starting with a central idea, related concepts are placed on radiating branches and sub-branches. Each branch is a distinct color and those symbols can be used here, too. For those inspired moments, a Rapid Fire mode automatically creates a new branch every time you press return. Once the creative burst has played out, you can go back to those branches are rearrange them as desired. If you experience a less-than-inspired moment the Word Guide (a sort of combination dictionary and thesaurus) might help you avoid using the word "nice" when what you really mean is "gracious."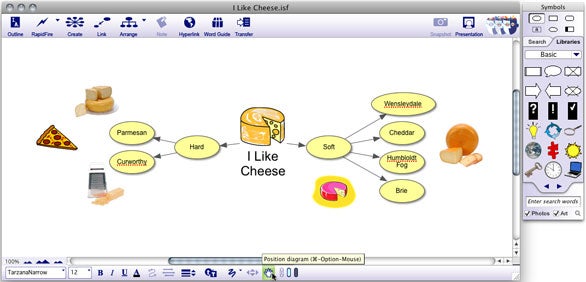 New to version 9 is a Presentation module. To create a presentation, you must first create either a mind map or diagram, then click the Presentation button in the tool bar. Inspiration takes the components of your document to make a skeleton presentation in a new document. In my experience it generally created one slide per top-level branch or tier in the original.
The graphical elements are brought into a palette of snapshots along side the presentation slides. The snapshots are actually groups of related objects. If you just one of the items in a snapshot, you must open the snapshot it appears in, select it, and create a new snapshot with just that object—a process that struck me as illogical and needlessly difficult.
Inspiration's presentation chops are pretty basic. You get presentation themes, slide templates, and a handful of transitions. Even though the feature set is perhaps half that of PowerPoint ( ) or Keynote ( ), it's got everything that most presenters need—and let's be honest, with slide transitions, less is more. One very welcome innovation is a lightweight presentation viewer application. A modest flash drive can handily store the Mac and PC viewers with a few presentations.
Inspiration is popular with educators and the academic slant is readily apparent. The clip-art symbols and starter templates are organized by academic discipline. The modest system requirements (OS X 10.3 on a G4 processor) tacitly acknowledge that many schools have rag-tag computer labs stocked with hand-me-down hardware. On the other hand, well-off schools might take advantage of Inspiration's digital whiteboard integration feature.
Macworld's buying advice
Visual thinkers, particularly from age 10 through 18, will want Inspiration in their academic toolbox. Even if you're not a student, should Inspiration 9 pique your interest, download the 30-day demo and give it a try. You'll know within a few hours if it's right for you.
[Stuart Gripman is the coauthor of FileMaker Pro 11: The Missing Manual and founder of Crooked Arm Consulting.]