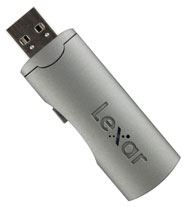 Lexar on Tuesday released a 128GB version of its Echo SE USB flash drive. About the size of a typical USB flash drive, the 128GB Echo SE is $500.
With its large capacity, the Echo SE is touted by Lexar as a backup device that's especially convenient for mobile users. The drive has Lexar's Echo backup software (which Lexar says is Mac compatible) built into the drive, and the software automatically lanuches when you plug the Echo SE into a USB port.
Key features of the Echo backup software include incremental backup, the ability to back up different versions of a file, automatic backup of a file when a change is detected, the option to secure files with 128-bit AES encryption, the ability to back up an restore files on either Macs or PCs, and more.
Lexar says the Echo SE is capable of 28MBps reads and 10MBps writes.
The Echo SE comes with a five-yer limited warranty. The drive is also available in 16GB, 32GB, 64GB and 128GB capacities.