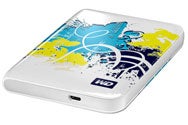 Western Digital on Thursday announced the new My Passport Essential Limited Edition Designs, a line of portable hard drives that feature graphics on the cases to give the hard drives a bit of panache.
The new drives feature the same case design as the standard My Passport Essential line, but with colorful patterns created by industrial design students students at California State University Long Beach.There are five style available: Boom Box, Black Hole, Cityscape, Fuschia Leaf, and Wave.
"Expressing individual style is important," said Western Digital VP Dale Pistilli in a press release. "That's why we teamed up with California State University, Long Beach design students, who have their finger on the latest fashion trends."
The Limited Edition drives are formatted for Windows. Mac users can reformat the drive to a Mac OS Extended format using Mac OS X's Disk Utility.
The 500GB Limited Edition drive is available for $120 exclusively at Best Buy or Western Digital's online store. Western Digital includes a two-year warranty.
My Passport Essential Limited Edition Designs Cityscape
My Passport Essential Limited Edition Designs Black Hole
My Passport Essential Limited Edition Designs Fuchisa Leaf
My Passport Essential Limited Edition Designs Boom Box
My Passport Essential Limited Edition Designs Wave