At a Glance
Expert's Rating
Our Verdict
Editor's note: The following review is part of Macworld's GemFest 2010 series. Every day from mid July through August, the Macworld staff will use the Mac Gems blog to briefly cover a favorite free or low-cost program. Visit the Mac Gems homepage for a list of past Mac Gems.
It's rare when a free app (one with no strings attached) provides the features you need to get the job done. Although DrawBerry is not exactly a substitute for Adobe Illustrator, it works well in a pinch for creating a basic vector drawing image, such as a brochure or a garage sale sign.
The basic tools are all here: you can add any shape such as a square, circle, or rectangle. DrawBerry uses an intuitive interface that let even novices create a complex geometric shape, such as a multi-point polygon or star, and then liven up the basic shape with color, a drop shadow, text, and imported clip art and photos. There are no advanced tools for add complex points to an existing shape or adding a freeform curve to a drawing, but you can create multiple drawing layers.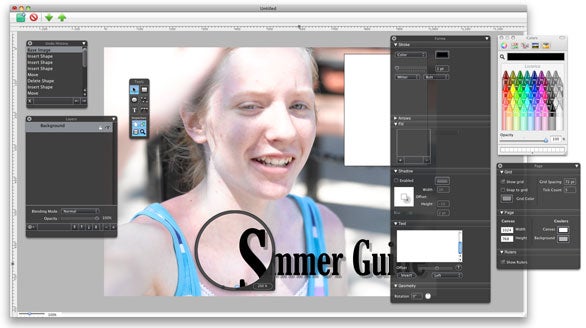 Palettes for adjusting the size of the drawing grid, canvas size, and rules are also just a click away. In fact, DrawBerry does a great job or putting most tools on palettes for easy access, instead of burying them in the menus. You can add text to a document, but the tools for adjusting font and size are fairly rudimentary. For example, there is no menu that shows you a font preview.
DraweBerry lets you export a finished drawing as a PDF, EPS, or photo format such as JPEG. You can easily align objects on the page and there's a magnifying glass (rare for a vector drawing app) that lets you zoom in tight on just one portion of your new drawing to make fine adjustments. There's also an undo history that lets you go back to a previous version of the document.
Want to stay up-to-date with the latest Gems? Sign up for the Mac Gems newsletter for a weekly e-mail summary of Gems reviews sent directly to your inbox. You can also follow MacGems on Twitter.
Our 186-page Mac Gems Superguide is a veritable greatest hits of Mac Gems. It's available as a PDF download, PDF on CD-ROM, or as a printed book. Learn more about the Mac Gems Superguide.
[John Brandon is a 20-year veteran Mac user who used to run an all-Mac graphics department.]