At a Glance
Expert's Rating
Our Verdict
Editor's note: The following review is part of Macworld's GemFest 2010 series. Every day from mid July through August, the Macworld staff will use the Mac Gems blog to briefly cover a favorite free or low-cost program. Visit the Mac Gems homepage for a list of past Mac Gems.
If you want to save your iPhone's text messages to your Mac, you can manually look for them in your iPhone backup and then use a program that can read SQLite database files. But that takes a bit of work. iPhone/iPod Touch Extractor can help find the text messages, but using it isn't a straightforward process that would be good for someone who isn't technically savvy. PhoneView ( ) can also do the job and more (like save your iPhone voicemails) for $20. For $5, Decipher TextMessage is an easy-to-use program dedicated to the task of saving your iPhone's text messages on your Mac.
When you launch Decipher TextMessage, it automatically finds your iPhone's backup, and then it lists the available text messages. (Since the program looks for files in the backup, it's possible that you may have new texts that haven't been backed up yet. So if you can't find a new text, try backing up your iPhone again.) Click on a message in the list, and the complete text exchange appears. Click the Save As button to save the text as a text document.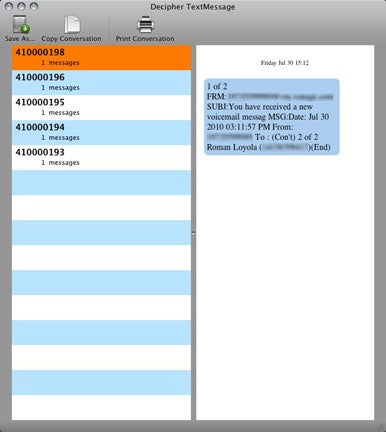 If you click on the Copy Conversation button, it copies the text and then you can paste it in a document. The Print Conversation button sends the text to your printer.
And that's it. I was able to use all the features without a hitch on my iPhone 3GS with iOS 4. iPhone/iPod Touch Extractor and PhoneView do more, but as a simple tool, Decipher TextMessage is effective if you use text messaging extensively and want to archive messages in an accessible form.
Want to stay up-to-date with the latest Gems? Sign up for the Mac Gems newsletter for a weekly e-mail summary of Gems reviews sent directly to your inbox. You can also follow MacGems on Twitter.
Our 186-page Mac Gems Superguide is a veritable greatest hits of Mac Gems. It's available as a PDF download, PDF on CD-ROM, or as a printed book. Learn more about the Mac Gems Superguide.
[Roman Loyola is a Macworld senior editor.]