Be prepared to feverishly multitask as you simultaneously handle a matching game and an attacking army of arachnid invaders.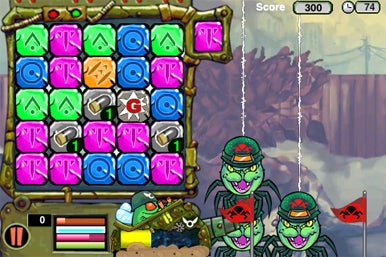 In Lt. Fly: Rise of the Arachnids by Namco, you find yourself as the titular Lt. Fly, responsible for his army's defense against an attacking spider army. The game screen is split into two halves. On the right, the spiders drop from above, and you must shoot them before they hit the bottom of the screen. Your ammunition is supplied by matching colored tiles on a board shown on the left side of the screen. Matching sequences of four or more adjacent tiles of the same color produces points and ammo to refill your weapons. The trick to the game is the power to multitask — focus too much on the spiders, and you run out of ammunition. Concentrate on matching tiles, and the spiders will overwhelm you.
Lt. Fly definitely has his work cut out for him as the action is frenetic keeping up with both sides of the game screen. There are a variety of weapons to use and over 20 levels to conquer. Wi-Fi or Bluetooth multiplayer is also included wherein matching a sequence of four or more tiles of your own drops an attacking spider on your opponent's screen and vice versa. Additional weapons and levels are available as in-app purchases, and achievements and Facebook integration are included.
Lt. Fly Rise of the Arachnids provides an interesting combination of strategy and action by coming two games into one. There is plenty of challenge in the single player experience alone, but the excellent multiplayer game mode serves to help establish who among you is the best at matching and shooting.
Lt. Fly Rise of the Arachnids is compatible with any iPhone, iPod touch, and iPad running the iPhone 3.0 software update or later.
[James Savage is the host of the RetroMacCast a weekly podcast devoted to older Macintosh computers.]