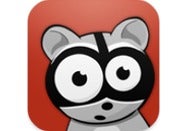 After covering just about all the major platforms on both desktop and mobile market, Seesmic has finally arrived for iPhone OS devices. While Seesmic used to be a video-messaging service run by French entrepreneur Loic Le Meur, he's since refocused his company's efforts into making Seesmic the most connected social-networking application around.
Seesmic for iPhone connects you to Twitter, Facebook and of course, Ping.fm which Seesmic bought earlier this year. Ping.fm lets you post updates simultaneously to multiple services, such as Tumblr, LinkedIn, MySpace, Blogger, WordPress, Google Buzz, and dozens of others from just one place. However, it's not possible to see your timelines on those other networks via Ping.fm from within the app.
The app smartly adopts how the iPhone's home screen works. It uses a panel interface combined with pagination. You tap a panel to add a function or account. Additional panels and pages will appear to the right as you use more panels. Removing a panel is done by pressing on it and tapping on its close button, just like removing an app. You can also reorganize your panels by dragging each from one screen to the next.
As far as Twitter goes, Seesmic is quite comprehensive. On top of the standard features you would expect to find on Twitter's own website, it supports multiple accounts. It also saves searches, lists, and trends which can be organized on different panels. The app gives you a choice between the old and native retweet methods, offers several image uploading services, and has optional geotagging support. Even with the traditional retweet method, you get a choice of using RT or via. It also has bit.ly API support.
Facebook in Seesmic is presented as a list of status updates posted by your friends. It is by no means a replacement for the proper Facebook app, but you'll be able to keep up with what they're up to and post your own updates. As with Twitter, you can attach images, videos, and links on your posts.
If you're an Evernote user, you're going to appreciate the ability to send messages, links, and images to Evernote. Items sent from Seesmic will be automatically tagged accordingly for easy searches and you'll be able to access them from any of your Evernote enabled devices. However, sending items to Evernote involves leaving Seesmic and opening the Evernote app on your iPhone OS device. If you haven't got the application installed, Seesmic will prompt you to download it from the App Store if you wish.
Seesmic is available on the App Store for free and works with devices running iPhone OS 3.0 or later.