Users of the Colloquy IRC client for Mac and iPhone now have another way to chat on-the-go. With a recent update, Colloquy is now a universal app that works on iPad in addition to iPhone and iPod touch.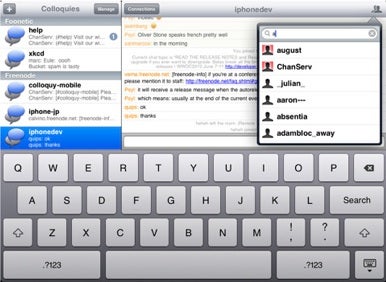 Colloquy 1.2 is now a universal app for iPhone OS. It brings an iPad interface to Colloquy's existing support for things like message themes, emoticons, and convenient custom commands for searching Google, Amazon, and Wikipedia.
Among Colloquy's existing features are an "organized Colloquies View" that shows all conversations and rooms at a glance. It can vibrate an iPhone or iPod touch when someone mentions your nickname, and can even stay connected when your device is locked.
Other miscellaneous new features and fixes include storing room passwords for auto-joining, the ability to set your away status, and better URL detection and copy/paste support.
Colloquy is a $2 universal app for iPhone and iPad. The new version is available now in the App Store and requires iPhone OS 3.1 or later.