Vlingo is a voice recognition app for your iPhone and iPod touch that's designed to take your spoken words and turn them into e-mail and text messages, dial your phone, update your Twitter and Facebook statuses, or search for information on the Web. As a voice recognition app, Vlingo is pretty amazing. Right out of the box, I was able to speak to the app and have it recognize exactly what I was saying with virtually no correction. And the more time I spent with the free app from Vlingo, the better it was able to recognize what I was saying.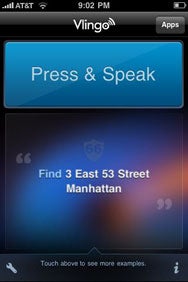 Vlingo listens when you hold your finger on the app's Press & Speak button. It then copies your recording to Vlingo's servers, where your speech is translated to text and sent back to the Vlingo app. The app responds to four basic commands that each have a few subtle variations—Find, Social Update, Search, and Call.
Find is a map-specific command that lets you search Google maps for the location of businesses that may be near you. So saying, "Find coffee shops near Alameda, California" will help you locate coffee shops near a specific location. Likewise, Social Update will post status updates to Facebook and Twitter, Search will perform Web searches for requested information, and Call will select and then dial the phone number of your requested contact.
Have a favorite? You can simply say, "Twitter, I look so hot in these shorts" or "Bing, the best salsa in the world" and Vlingo will update and search each site. The only problem that I had with this feature was when I attempted to use the Bing search option. While Vlingo had no problem Googling or Yahooing, Binging always returned a Google search with "being" as the first word in my search request, no matter how carefully I said the word Bing. Great for John Malkovich, but not so hot for finding what you want using Bing.com.
While Vlingo is free for the downloading, you can also add two more features to the app for the tidy price of $9.99: e-mail and SMS paste. Both of these features work well, allowing you to compose long messages by speaking to Vlingo, but they also expose the fly in Vlingo's hands-free ointment. With the exception of Web and map searches, to complete any of Vlingo's text sending options, you'll have to find and tap at least one button on the screen. In some cases—such as when you forget to say "Subject" and then "Body" when speaking an e—mail message—you'll have to tap out a subject line or cut and paste your body text from the subject field. And unlike the iPhone OS's built-in voice-dialing, Vlingo requires you to tap any phone number you want to dial before it will initiate a call.
So if you're imagining Vlingo will be the gateway to hands-free texting, updating, e-mailing, and dialing, the app doesn't quite get you there. To put it another way, this is no tool for texting and driving. (Not that I'm suggesting that you would ever want to do that.)
Vlingo offers great voice recognition capabilities and proves to be a fantastic tool for hands-on, spoken text and e-mail messages, but it's not a truly hands-free app and is subject to many of the limitations and dangers of using your phone when your eyes should be somewhere else.
[Jeffery Battersby is an IT Consultant, (very) smalltime actor, and regular contributor to Macworld. He writes about Macs and more at his blog.]