The new 27-inch iMac marks a first for Apple's popular all-in-one desktop computer—it can host a second drive. But if you think this means the company is releasing its grip on the iMac's notoriously closed form factor, think again.
Both 27-inch iMac models ship with 1TB 7200-rpm hard drives as standard equipment. For $150 more you can upgrade to a 2TB, 7200-rpm drive, or if you'd like to use a solid-state drive (SSD), Apple will replace the hard drive with a 256GB SSD for $600 (bringing the price of the 3.2GHz Core i3 model to $2299).
The interesting part is that, for the first time, you don't have to choose. If you can afford it, Apple sells a 27-inch iMac with both the 256GB SSD and one of the hard drive options pre-installed. It's $2449 for the 27-inch Core i3 iMac with a 256GB SSD and 1TB hard drive, and $2560 for the same system with the SSD and 2TB hard drive. The top-of-the-line 27-inch Core i5 iMac has the same storage pairing options available. (It is not possible to order an iMac with two SSDs or two hard drives.)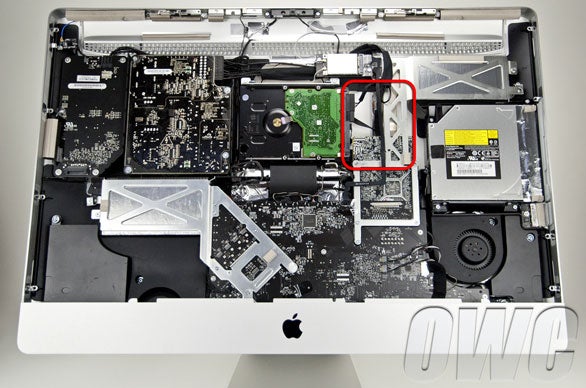 As we've witnessed in the Macworld Lab, all SSDs are not created equal. Some SSDs show a performance degradation over time. Not knowing what exact SSDs Apple installs will have many customers thinking about rolling up their sleeves and installing a known performer on their own. To that we say, "Good luck."
If you've ever considered opening up your 27-inch iMac for any reason, a quick visit to iFixit will make all but the truly adventurous think twice about undertaking the task. Just the heavy-duty suction cups required to remove the glass panel over the display would be enough to scare most users off.
And if that extensive surgery—and Apple's position that the user upgrades to the 27-inch iMac line are not supported—weren't enough to scare you off, then this bit of news from OWC might finally dissuade you from pursuing your iMac DIY upgrading dreams.
It seems that the bracket to hold the SSD in place isn't installed unless an SSD is installed by Apple.
Then again, just because something's difficult doesn't mean it's impossible. From the OWC blog:
Of course, you can still install that second drive on a non-SSD iMac if you:

1. Connect a data cable to the empty SATA port on the back of the logic board (a process requiring the removal of several screws and partial removal of the logic board.

2. Get a Y-cable that goes from 1 SATA male power connector to 2 SATA female power connectors. (This step is actually pretty easy.)

3. Find a way to secure your 2.5″ drive in the space that the carrier would normally hold it.
So it's not impossible, but the task is certainly not for the faint of heart. We intend to try this ourselves, once benchmarking has been completed, of course.
Check back soon for more test results, full reviews and complete coverage of Apple's latest iMacs.
[James Galbraith is Macworld's lab director.]
27-inch Core i3 iMac/3.2GHz
27-inch Core i5 iMac/2.8GHz (quad-core)
Price When Reviewed:
$1629.95