Twitter and the iPhone have long seemed to go together, but how does the social-networking service play on a non pocket-sized gadget? While it may not bring every single feature of its iPhone version to the iPad, the Iconfactory's Twitterrific for iPad adapts well to the device, bringing a new interface designed and tweaked specifically for the tablet.
Like most of the best iPad apps, Twitterrific provides both landscape and portrait orientations. In either mode, your timeline is front and center, complete with color-coded tweets: green for your own, brown for mentions, blue for direct messages. Every single tweet in your timeline has controls that let you favorite or reply to a given message. Tapping reply brings up a menu that allows you to choose from replying, direct messaging, forwarding to followers (often called an "old-style retweet"), and retweeting.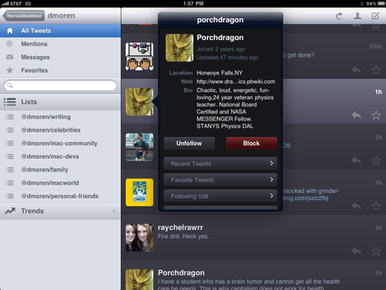 The top right corner of the app has controls for refreshing your timeline, viewing your own profile, and composing a new tweet.
Despite an apparent lack of controls, Twitterrific packs away a lot of functionality—but the biggest win of the app is context. Controls are where you want them when you want them, instead of littering the interface at all times. And you can dig deeper without losing your place, because the main timeline is almost always visible, no matter where you are.
How does Twitterrific accomplish this? One of the new user interface elements introduced in the iPad are pop-overs—those almost cartoon-like bubbles that overlay a part of the screen. Twitterrific uses them to good effect: Tap on the avatar of any Twitter user and you'll get their full profile; follow, unfollow, and block controls; and access to that user's recent tweets, favorite tweets, and following/follower lists. Tap anywhere else on the screen and the pop-over disappears. Additionally, if a user posts a tweet with a picture that's hosted on a site such as TwitPic or yFrog, tapping on the link will bring up a pop-over containing just the image, without forcing you to navigate away from the timeline.
The only place that you're really forced to jump away from your timeline is when viewing an external URL, in which case Twitterrific will slide up a browser that covers the entire screen (when you're finished browsing, you just tap the Done button and the browser slides away again). In addition to your usual back, forward, and refresh controls, the browser also has a "Share" button that lets you open the current page in Safari, tweet the link, e-mail the link, copy the URL, or send the page to the Web service Instapaper, if you've configured an account in Twitterrific section of the iPad's Settings app. One small complaint I have is that when you e-mail a link, the subject is always "URL from Twitterrific." Since I end up editing that pretty much every time I send a link, it might be more convenient to default to the name of the page you're sending.
In the split-pane view, the left-hand column contains a list of certain subsets of your timeline: mentions, direct messages, and favorites. Tap on any of those to view just those types of tweets. There's also a search field (this is one control that isn't contextual—it always searches the entirety of Twitter), your Twitter lists, and a collapsible list of current trending topics. In portrait mode, these features are available as a pop-over when you tap your account name in the top left hand corner.
The iPad version of Twitterrific is free, but it inserts an ad (a tastefully small one, for what it's worth) at the top of your timeline. It also supports only one account—if you want to upgrade to multiple accounts and banish the ad, you can only do so via in-app purchase, which will cost you $5. Additional accounts are treated in parallel, meaning you can only view one account's tweets at any given time.
Like much of the rest of the app, composing a tweet is a slimmed-down experience. There's a character counter which you can tap to compress any links using a URL shortening service and a camera button to upload pictures from your iPad's photo library. (It supports most Twitter picture services, such as TwitPic, yFrog, img.ly, and more.)
Twitterrific does lack draft support, so if you're the kind of person who constantly preps and tunes tweets for later publishing, it's probably not for you. There's also no support for notifications, beside the default bird-chirp when your tweets are updated (which you can disable in Settings). And one of my favorite features of the iPhone version—the ability to mark tweets—is sadly absent as well. But despite such absences—or, in some cases, perhaps because of them—Twitterrific presents a compelling, elegant Twitter experience that makes the most of what the iPad has to offer.
[Dan Moren is a senior associate editor for Macworld and since the advent of Twitter has had a hard time thinking in more than 140 characters.]