Editor's note: The following review is part of Macworld's GemFest 2010 series. Every day from mid July through August, the Macworld staff will use the Mac Gems blog to briefly cover a favorite free or low-cost program. Visit the Mac Gems homepage for a list of past Mac Gems.
Earth Addresser is a fun little program that works with Google Earth and the Mac's Address Book. It takes your contacts and maps them out on the Google Earth globe.
When you first launch the program, a disclaimer appears to let you know that Earth Addresser will send addresses in your contact lists to the Google Maps service in order to translate the address into coordinates to be used in Google Earth. According to the disclaimer, only address information is sent; the name associated to the address isn't sent, nor is any other information noted in Address Book sent. If you don't feel comfortable sending this data, you can opt out, but then you can't use Earth Addresser.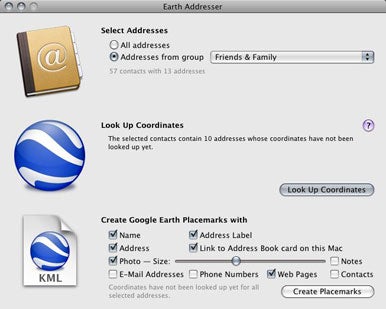 After reading the disclaimer, Earth Addresser takes very little effort to use. The program automatically finds your Address Book contacts, and you select what address group you want to get coordinates for. Once you select your contacts, you click the Look Up Coordinates button, and in a short while (the more contacts you have, the longer it takes), Earth Addresser gets Google Earth coordinates for each address.
The next step involves modifying the Placemarks that are used in Google Earth to mark each address. You can have the Placemark list the Name, Address, Address Label, Phone Number, and more. If your Address Book contact has a photo, you can use it on the Placemark to give it a better visual presence. You can also have the Placemark link to the contact in your Address Book, so when you click on the link, Address Book launches and opens the appropriate contact. When you click on the Create Placemarks button, Earth Addresser creates a .kml file that you open in Google Earth.
When you open the .kml file in Google Earth, you'll see your contacts mapped out across the globe. It's a nifty way to see when your contacts are located, and it looks even more spectactular if you have photos for your contacts.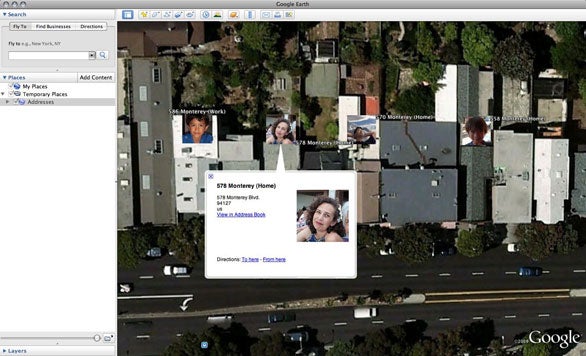 Earth Addresser and Google Earth won't replace your Address Book—you won't have any contact maintenance tools at your disposal. But Earth Addresser is a fun addition to Google Earth. And seeing familiar faces spanning the Google Earth globe puts your friends and family into a new perspective.
Want to stay up-to-date with the latest Gems? Sign up for the Mac Gems newsletter for a weekly e-mail summary of Gems reviews sent directly to your inbox. You can also follow MacGems on Twitter.
Our 186-page Mac Gems Superguide is a veritable greatest hits of Mac Gems. It's available as a PDF download, PDF on CD-ROM, or as a printed book. Learn more about the Mac Gems Superguide.
[Roman Loyola is a Macworld senior editor.]