Editor's note: The following review is part of Macworld's GemFest 2010 series. Every day from mid July through August, the Macworld staff will use the Mac Gems blog to briefly cover a favorite free or low-cost program. Visit the Mac Gems homepage for a list of past Mac Gems.
When you create a contact in OS X's Address Book, the first item entered for each entry point is considered the primary entry. For example, if you enter two e-mail addresses for a friend (one work address and one personal address), the first e-mail address you enter is considered by Address Book the primary. That's the address that automatically appears when you're addressing a e-mail to that same friend.
Unfortunately, there's no built-in way in Address Book to change the primary designation for a contact. You need Set Primary Addresses an Address Book plug-in that simply adds the functionality to let you change the primary designation.
Set Primary Addresses goes in your Address Book Plug-Ins folder, which is located in your Library folder. When you want to change the primary designation, all you have to do is click on the field label; a menu will pop up, and "Make this the Primary" will be one of the selections. For example, to change the primary e-mail address, click the field label next to the address you want to designate, select "Make this the Primary Email" and you're done. Now this e-mail will be the one that automatically fills in.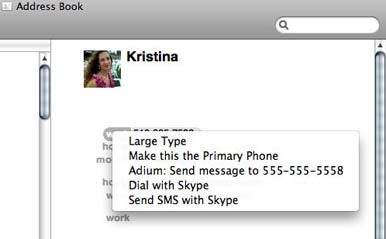 Set Primary Addresses doesn't do much, but it provides a basic but needed function to Address Book.
Want to stay up-to-date with the latest Gems? Sign up for the Mac Gems newsletter for a weekly e-mail summary of Gems reviews sent directly to your inbox. You can also follow MacGems on Twitter.
Our 186-page Mac Gems Superguide is a veritable greatest hits of Mac Gems. It's available as a PDF download, PDF on CD-ROM, or as a printed book. Learn more about the Mac Gems Superguide.
[Roman Loyola is a Macworld senior editor.]