GameTrac for the iPhone allows you to track statistics for a variety of sports including baseball, football, running and even the card game Hearts. The $5 app from KB Productions makes it easy to track statistics, but it's not entirely free of flaws.
By default, GameTrac tracks eight different sports including the four major sports as well as golf, soccer, tennis and running. The app can also track totals for things like gym workouts, card games like Heart, or, really, any data that you want to track over time. You can add new sports or stat categories and customize existing ones, although you must do so manually. There's no way to import data into GameTrac. For parents who want to track their children's progress in sports or their own workouts at the gym, GameTrac provides a simply way to do so.
I tested GameTrac by adding sample sessions in baseball, basketball, and running. Every few days, I entered a sample game. I added all the usual statistics, including hits, runs and RBI in baseball, shots attempted/made and steals in basketball and time and distance in running. Adding the statistics in GameTrac was easy; I was also able to insert additional categories with a tap of a button.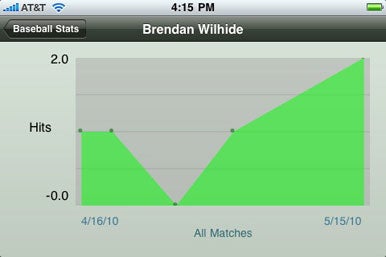 GameTrac displays averages, not totals. It's great for tracking progress from game to game or race to race, but not for tallying up cumulative numbers. By default, GameTrac shows you your average steals per game but not your total over the course of a season.
I was surprised to find that GameTrac does not track batting average among its baseball statistics. I created a simple batting average category of hits/at-bats and, true to form, GameTrac calculated the average for me. The problem was displaying the information correctly. There's no way to correlate the app's default hits and at-bats categories with my manually-created batting average category. GameTrac doesn't know they're the same thing. If the app tracks shooting percentage in basketball by default, why not batting average in baseball or average pace in running?
I searched GameTrac's online manual for a way to display season totals but couldn't find one. That said, tracking your progress from game to game is easy, as is sharing that progress with others. GameTrac includes buttons to post your latest stats to Facebook and Twitter or send them via e-mail. You can back up your stats in a text file via e-mail as well. The app's manual makes reference to saving stats in CSV files, but I did not see a way to do so during testing.
GameTrac tracks statistics and plenty of them. Most casual users will probably be happy with an easy way to track statistics, but more advanced users will likely be left scratching their heads at the lack of customization when it comes to displaying that same data. Still, despite some flaws, GameTrac is a promising start.
[Brendan Wilhide is a contributing writer to Macworld.com. He covers the sports industry on Twitter at Sportsin140.com.]