If you've ever wanted to update your Facebook and Twitter status at the same time, qStatus may be of interest to you, but be aware, I ran into a number of issues with the $1 app from Gx5.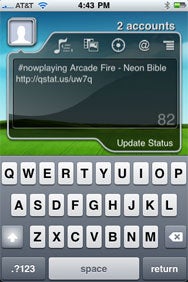 After you've linked your accounts to qStatus, each time you launch the app you're presented with an status update box. By default, all linked accounts are updated at the same time, though there is the option to only update Facebook or Twitter by tapping on your avatar and unchecking the account you don't want to update. The update options are familiar to most Twitter users: you can geotag your location (if this feature is turned on for your Twitter account) or add photos and videos.
qStatus also gives you the ability to insert the current song you're listening to into your update along with the popular #nowplaying hashtag. (The app also includes a short URL with music updates that links not to iTunes, but to the Amazon MP3 store—qStatus's affiliate code included, but masked behind the short URL.)
Once everything is set up in qStatus, things work as they should, but not without a number of problems. When you initially link your Twitter account, a pop-up screen appears for you to enter your credentials. If you choose not to enter your information at the time, there is no way to clear the screen without quitting the app, which is awkward and clumsy. When you are finally linked and ready to update, you have the option to find contacts by username, but qStatus crashed every time I picked this option. Lastly, the app really doesn't have an iPhone look and feel. The icons seem too small to me, and the screen feels too busy.
When these bugs and design flaws are combined with the affiliate links inserted into the app behind a custom URL, it leaves me with a bad taste. If you're really anxious to update Facebook alongside your Twitter account, I would take a look at the popular Selective Twitter service. As it stands, qStatus falls short.
[Macworld contributor Beau Colburn lives in Boston and posts iPhone photos on his site Snap different.]