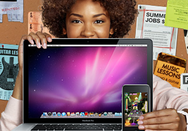 As we've not quite reached the end of May, most students are probably more concerned with their imminent summer vacation than their plans for the fall. But that doesn't mean they, and their parents, shouldn't look ahead. To help out, Apple has kicked off its annual Back to School promotion.
This year's deal? Buy a new qualifying Mac and get yourself a free 8GB iPod touch. Eligible for the offer are the MacBook, MacBook Pro, MacBook Air, and iMac—unsurprisingly, there seems to be a certain bias towards the portable market.
If an 8GB iPod touch doesn't quite float your boat, you can also opt for any of the following models: a 160GB iPod classic, 16GB iPod nano, 8GB iPod nano, or a 4GB iPod shuffle (either the stainless steel or normal models). In each case, the amount of the rebate varies—most of them net you the iPod for free (excluding tax), though if you opt for the classic, you'll only get $199 off of the $249 list price.
All you have to do to take advantage of the deal is add both items into your cart at Apple's online education store (or an authorized campus store or brick-and-mortar Apple retail store). Once you purchase, you'll be eligible for a rebate, which you can submit online within 90 days of your order shipping. As ever, you'll need to be either a K-12 education employee or a higher education student, parent, faculty, or staff. The promotion runs from May 25 to September 7.