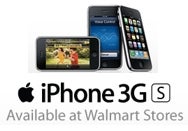 Walmart announced on Tuesday that it had dropped the price of the iPhone 3GS 16GB to $97, the lowest price on the handset ever in the United States. The 32GB variant of the iPhone 3GS, however, remains at its previous price of $297 on Walmart.
Down from its previous price of $197, the $100 price cut brings for the 16GB 3GS puts it on par with the price for the 8GB iPhone 3G, which Apple sells for $99. However, Engadget reported on Tuesday that the 8GB iPhone 3G seems to currently be unavailable at Apple's online store, adding further fuel to rumors of a new iPhone.
It seems likely that Apple will introduce an upgraded version of the iPhone during its WWDC '10 keynote, which Steve Jobs will be giving on June 7. The company has introduced a new iPhone every summer for the past three years and this year seems to be no different, especially in light of recent events surrounding the leak of a prototype fourth-generation iPhone.
If a new model of the iPhone is announced on June 7, it's also probable that the price of the iPhone 3GS 16GB will officially be lowered by Apple, as they did in 2009 with the iPhone 3G 8GB—probably to $99. Unless you have impatiently been waiting for the iPhone 3GS's price to be lowered and just can't bear to wait any more, I would recommend holding out for just a little while longer and hear what Apple has to say.