At a Glance
Expert's Rating
Our Verdict
Bjango's iStat Menus has been a mainstay of every Mac I've owned over the past few years. The program puts a collection of live-updated status icons in your menubar that help you keep track of what your system is up to and how its resources are being allocated. The developer recently gave iStat Menus a major makeover that includes many new features, as well as a new $16 price tag. While that's a big jump from the pre-3.0 price of free, I still think it's worth it.
iStat Menus 3 is now a program, rather than a System Preferences pane. If you're upgrading from a previous version, version 3 automatically removes the iStat Menus preference pane upon first launch. This process occurs seamlessly, without the need for an installer.
The advantages of migrating to an application are immediately apparent: no longer constrained by the limitations of a preference pane, iStatMenu really flourishes, especially when it comes to the program's user interface. Borrowing heavily from the iPhone UI, iStat Menus' general look and feel is now much more modern and aesthetically pleasing. (Thankfully, you aren't forced to keep another program icon in the Dock; once you've configured iStat Menus, you can "quit" it—its icon disappears from the Dock, but your status items remain functional in your menubar.)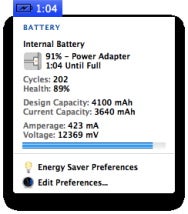 iStat Menus' menus items include monitors for CPU, memory, and disk usage; disk and network activity; hardware sensors; and the date and time. These were all present in the previous version, but the latest version adds a battery extra to the mix. Status items can be rearranged in the menubar just as you would Mac OS X's own menu extras—by holding down the Command key while you click-drag an item to the left or right. Disabling an extra is as simple as dragging it off the menubar (or toggling a slider in the iStat Menus settings window).
Click any of the new menu items to view a menu, tailored to suit your tastes, containing a plethora of information about various components of your system. The configuration options for each status item are plentiful, and the program does a good job of presenting them in such a way so as not to make the options and information overwhelming.
In addition to the new battery status item, iStat Menus 3 adds some enhancements to the existing modules, such as the network item's stacked mode (which shows the upload- and download-speed graphs stacked on top of one another, instead of one overlapping the other); a fan-speed option in the sensors item; your public IP address in the network item; and sun and moon information in the date and time item. The program is quick and responsive—the overhead its monitoring tools add to your CPU is practically unnoticeable—and I have yet to experience any crashes or "spinning beachballs" while using it.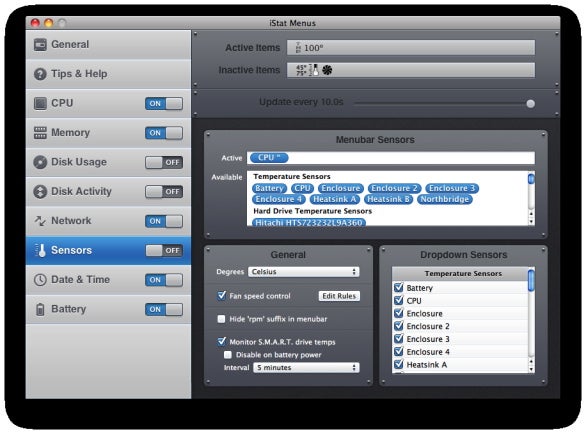 All said and done, iStat Menus remains a fantastic add-on that does, with perfection, what it promises to do. From a practical standpoint, if you're already using a previous version of iStatMenus and can live without the battery-status item, iStat Menus 3 might not be a compelling upgrade. Still, for all the features it provides, and its degree of fit and finish, iStat Menus is a steal, even with a price tag. I highly recommend it.
Want to stay up to date with the latest Gems? Sign up for the Mac Gems newsletter for a weekly e-mail summary of Gems reviews sent directly to your Inbox.