It used to cost a fortune to set up a centralized sound system in your home. All you need now are a few simple items, many of which you already have: a Mac; an iPhone, iPod touch, or iPad; Apple's free Remote app; a wireless network; an AirPort Express; and, of course, some music.
Using the Remote app to control iTunes on a Mac and stream content to speakers or to an Apple TV opens the door to a more logical way to listen to music. No more finding a CD and bringing it to the stereo in the room where you want to listen; just store everything on a Mac, and stream.
We've written about how to set up such a sound system already, but here are a few tips to make this system even better.
1. Start the DJ from scratch
iTunes DJ is a feature in iTunes that lets you queue up music for listening. Formerly called Party Shuffle, it's designed to take a random selection of music from your library, or from a selected playlist, and play the songs in order. You can add songs to it as you go, or rearrange them to suit your mood.
But iTunes DJ is also a great way to set up a listening list for a party, dinner, or a relaxing evening on the deck. With Remote app, you don't need to be in front of your Mac to queue up what you want to hear, and you can stream music to an AirPort Express or an Apple TV. However, iTunes DJ, by default, never wants to be empty. Usually, when you choose iTunes DJ from the Playlists list in the Remote app, you'll find it populated by either your last musical selections, or by a random bunch of songs from your music library.
If you use iTunes DJ remotely often, making sure that it starts out empty is useful, so you don't have to delete songs to fill it with what you want to listen to. To do so, create an empty playlist in iTunes on your Mac and name it something like iTunes DJ (Remote). Click on iTunes DJ in the iTunes sidebar and then look at the bottom of the window. From the Source menu, choose your empty playlist. When you use Remote on your iPhone, and choose iTunes DJ, it will now be free of any music, waiting for you to add to it exactly what you want to hear. And unlike with a playlist, you can add songs on the fly; plus, you can enable the Allow Guests To Request Songs With Remote For iPhone Or iPod Touch option in iTunes and let others at, say, a party request and vote on songs.
2. Get the name right
If you use Remote to choose albums, and you have lots of albums with similar names, perhaps you've noticed that since Remote truncates the names, you aren't always be able to find what you want. Unlike the iPod classic, the iPhone and iPod touch don't scroll names when you select items. Even when they're playing, you see only the beginnings of names (this is true whether you've playing music locally or using Remote to control iTunes playback).
I have a lot of classical music in my iTunes library. For example, I have two albums titled A Flock Descends Into the Pentagonal Garden, with music by Toru Takemitsu. The same is the case with other albums containing symphonies, string quartets, and so on. While album art can help, I still may forget which album is which, and what exactly each contains. The solution—not necessarily elegant—is to append the name of an artist or ensemble at the beginning of the name. You may find this helpful also if you have lots of videos with similar names; append something indicative at the beginning of the name so you can tell them apart easily.
3. Insert silence, then play
OK I admit, I may have some odd ways of dealing with my iTunes library. I like classical music, and much of the music I have comes in large box sets. For example, I recently got a set of Haydn's string quartets on 22 CDs. I ripped the CDs and put the whole set into a playlist, and I listened to it over several days. But when I wanted to control it with the Remote app, it was hard to find where I last stopped listening.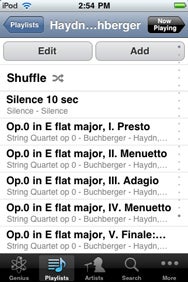 In iTunes, this is easy to accomplish, thanks to the play count and last played date. But Remote doesn't show any of that metadata, so I came up with a solution. After I've listen to part of a box set, I go into iTunes and uncheck those tracks that I've finished—iTunes typically skips unchecked tracks. But iTunes will play an unchecked track if you select it in Remote. Since you can't choose to start playing an entire playlist—you have to start playing a specific song in a playlist with Remote—I needed to find a way to play something that wouldn't disturb me, allowing iTunes to then skip to the next track.
The solution is silence. Some years ago, I created some silent tracks to use in playlists to separate certain works. Now I just stick one of these—the shortest one—at the beginning of my playlist, then start playing it. iTunes will "play" the silent track, then proceed to play the next checked track, skipping all those that I've already listened to and unchecked. I could replicate much of the functionality using smart playlists, but that would require me to change the way I like to work with my music.
Using the Remote app is a cool way to control iTunes, but it's definitely not perfect—and there's no version updated specifically for the iPad yet. How do you use Remote to you control your iTunes library in interesting ways?
[Senior contributor Kirk McElhearn writes about more than just Macs on his blog Kirkville.]