Electric Pocket's BugMe is an unusual app. Its home screen features an image of a cork board, upon which you post sticky notes, which you can create using a variety of tools. Sticky notes on a corkboard? That's a mixed visual metaphor, for sure, but it's also a signifier: you can do a whole lot more with BugMe's digital stickies than you can with the paper ones, or the Mac's Stickies program.
The iPhone and iPad versions of BugMe are both reviewed here, and they are very similar. When you first launch BugMe on either device, you're presented with a corkboard and a single, yellow sticky that says "New Note." You tap on that note to create subsequent notes. By default, the notes are yellow, but you can change the default to other colors in the app's settings screen. When you create a new note, it automatically takes up most of your screen space.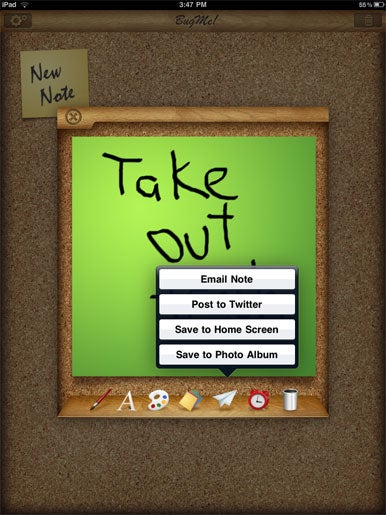 The bottom of the corkboard features a set of icons. One activates the paintbrush/eraser tool, with which you can create a freeform note (or work of art). There's also an icon that calls up a palette for choosing your color and stroke width. You can activate the standard iPhone/iPad keyboard if you wish to type content into your note, and you can change the color of each sticky using the toolset at the bottom, or opt to use an image from your photo album as a background.
Once you've created your sticky, you have a variety of options. You can just leave it on the corkboard (and rearrange your notes with the flick of a finger). You can set an alarm to sound at any time; the alarm also brings up a small version of the note. You can e-mail a note, post it to Twitter (actually to twitgoo, a site that enables you to post images that are linked to your Twitter account), and "Save to Home Screen." You can also save notes to your photo album.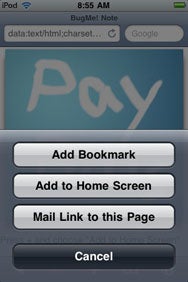 In fact, a note is only saved to your home screen if there is an open spot for it there; if not, the note is saved to the first available open spot—which could bury it deep among your less-used apps.
Saving to your screen requires an Internet connection, because the note is routed through Electric Pocket's server, which then launches Safari with a page that includes only your note. You click on the plus sign at the top of your Safari screen to save the note to your home screen (where it appears as an app icon). After that's completed, Electric Pocket says, your note is deleted from its server.
BugMe succeeds in providing users with creative ways to take notes and select from a variety of ways to, well, bug themselves. This requires a few workarounds on the programming side, but the app is notable for performing well and providing a unique note-taking experience.
[Jeff Merron is a freelance writer and editor living in North Carolina.]