At a Glance
Expert's Rating
Pros
12x optical zoom lens with excellent autofocus
Practically silent zoom-lens motors
Manual aperture, shutter, and exposure controls
Cons
Sometimes has trouble with extreme macro shots
Images often look underexposed
Maximum aperture is f3.3
Our Verdict
The Lumix DMC-ZS5 brushes aside most fancy extras and gets down to brass tacks. Its manual controls and fast-focusing 12X-optical-zoom lens make it a big step up from 2009's Lumix DMC-ZS3.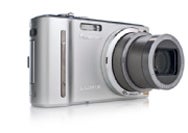 Compared with some feature-packed competitors, the Panasonic Lumix DMC-ZS5 ($250) is a solid, no-nonsense pocket megazoom camera. Emphasizing smooth, versatile performance, its 12x optical zoom lens (25mm to 300mm) offers quiet motors and very fast autofocus, two factors that make the DMC-ZS5 a good double-duty camera for stills and video.
Specs-wise, the DMC-ZS5 sits wedged between last year's fully automated Lumix DMC-ZS3 and this year's fully loaded, GPS-enabled Lumix DMC-ZS7. Other than the DMC-ZS7's geotagging features, the DMC-ZS5 and the DMC-ZS7 are practically the same camera (the DMC-ZS7 also has a 3-inch LCD screen, slightly larger than the DMC-ZS5's 2.7-inch screen).
Like most pocket megazooms, the Lumix DMC-ZS5 is a bit too large to be truly pocket-size. It can squeeze into an inside coat pocket and would have little trouble fitting into a bag, purse, pair of overalls, or kangaroo pouch, but the 1.3-inch-deep camera is a tight fit for a pants pocket.
The DMC-ZS5's manual controls make it a notable upgrade to the DMC-ZS3. In addition to a full manual mode, which lets you select aperture and shutter values independently, you get aperture-priority and shutter-priority modes. Aperture values range from f3.3 to f6.3 at the wide-angle end of the zoom to f4.9 to f6.3 at full telephoto. Shutter speeds range from 1/2000 of a second to 60 seconds.
The camera has a nice array of effective automated settings (Intelligent Auto mode, Intelligent Resolution mode, and Intelligent ISO mode among them) and scene modes (including an excellent High Dynamic Range mode). But when you weigh it against feature-focused pocket megazooms such as the high-speed-shooting Casio Exilim EX-FH100, the tilt-shift-simulating Canon PowerShot SX210 IS, and the GPS-enabled Sony Cyber-shot DSC-HX5V and Panasonic Lumix DMC-ZS7, the DMC-ZS5's bag of tricks is comparatively small.
Though the DMC-ZS5 is well-equipped for taking pictures, those photos tend to come out a bit dark and underexposed. In our labs' jury evaluations for image quality, the DMC-ZS5 trailed every pocket megazoom we've tested on exposure quality and color accuracy, but it also produced some of the sharpest photos in our test group. It fared much better in our video tests, shooting smooth and sharp movies that earned a Very Good rating, but the on-board microphone was weak. The DMC-ZS5 netted an overall imaging score of Good.
The DMC-ZS5 captures 720p video footage in .mov format; Panasonic has stepped away from the AVCHD Lite format with this camera, which means that the video file sizes are a bit bigger. The upside is that the .mov files are compatible with more video-editing suites than raw AVCHD clips are. You don't get the full range of manual controls while shooting video, but you do have the ability to adjust white balance, to choose from several preset exposure settings, and to select a few color filters from the in-camera menus.
For a semicompact camera, the DMC-ZS5 offers impressive video performance, especially when you use the camera's optical zoom lens while filming. Autofocus is incredibly quick and sharp, and as long as the camera is on a tripod or a flat surface, the reach of the lens offers stunning results. Here's a test video taken to showcase the DMC-ZS5's zooming and autofocus chops; the light stanchion in the clip is about three and a half city blocks away.
A camera's digital zoom is rarely worth mentioning, but the DMC-ZS5's enhanced digital zoom feature is an exception. Thanks to some refined in-camera trickery, the Intelligent Zoom and Intelligent Resolution features of the DMC-ZS5 expand the zoom range to a simulated 16X, boosting the telephoto end to a virtual 400mm. Normally, a camera's digital zoom will simply crop an image and blow it up, pixelating the mess in the process, but the DMC-ZS5's ability to create smooth edges and sharp contrast makes its digital zoom noteworthy.
The DMC-ZS5's durable build is similar to recent Lumix point-and-shoots, featuring a metal-covered body accented with metal switches, metal buttons, and metal scrollwheels. Though plastic, the doors covering the camera's USB port and battery/storage compartment feel sturdier than most. The top of the camera hosts a ten-selection mode dial, which is a dramatic improvement over the one found on the DMC-ZS3: unlike with last year's camera, the selections on the DMC-ZS5's mode dial stretch the full 360 degrees around the dial, meaning that the DMC-ZS3's irritating 'Mode dial is not in the proper position' error message is a thing of the past.
Shutter lag is a mixed bag. For single shots, it's practically nonexistent: I was able to power up the DMC-ZS5 and snap a shot within about a second, though it took a fraction of a second longer when I set the camera to Intelligent Auto mode. Shot-to-shot lag is a different story, however. Unless the DMC-ZS5 is in its three-shots-per-second burst mode, the camera takes quite a bit of time between shots.
What's more, because the capture/playback settings are controlled by a physical lock switch, moving between playing back images and snapping photos takes time. In contrast to many cameras, pressing the shutter button during photo playback doesn't put the DMC-ZS5 into capture mode, so you lose about a second while you're adjusting the lock switch from playback to capture. The DMC-ZS5 isn't the best selection if fast-action photography is the top item on your to-do list.
Macworld's buying advice
The Panasonic Lumix DMC-ZS5 is a good, dual-purpose camera for stills and video, thanks to its silent, quick-focusing, and far-reaching zoom lens. You may want to look elsewhere if you're craving wow-factor features, and you may want to touch up your shots with an image-editing program if you want brighter, more-vivid images.