Bloomies brings a colorful, beautifully-drawn garden to life—without the need for a green thumb. All that is needed is a few moments a day to keep your bloomies watered, and before long, you'll have a virtual garden that's the envy of every master gardener.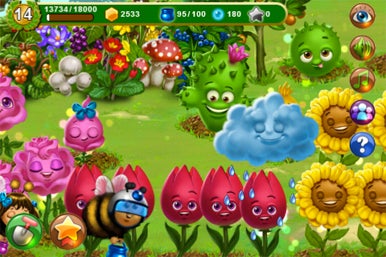 Bloomies by Phantoom Entertainment isn't a game in the traditional sense in that there is no real challenge or difficulty. The objective is to create a lush garden of "bloomies." Bloomies are smiling flowers and other plants you grow on a grassy slope. Choose a spot, dig a hole, and spend your initial allotment of coins to purchase your first bloomie. If you don't remember to water your bloomies, they will stop producing nectar. Bees need this nectar which earns you more coins to spend on more bloomies. Coins also allow you to purchase plant decorations and more bees. Collect stars to upgrade abilities and your beehive from which you purchase items.
Bloomies is a very relaxing diversion with beautiful music, cute sound effects, and artfully drawn graphics. You won't spend a long time in any one session. Instead, you'll find yourself checking in a few times a day to tend to your garden and before too long, it will be bristling with activity. Unfortunately, that means that the small garden can get overpopulated quickly. This makes managing everything a bit cumbersome should you strive to unlock and purchase every item. You can broadcast your achievements through OpenFeint integration, but unfortunately there is no way to send your friends bloomies or other items.
Bloomies is a welcome change of pace from the stress that other task management games place on you. Without the pressure of time or an adversarial force, it's a great game for kids. The world of the Bloomies is wonderfully illustrated and filled with thoughtful detail at every turn. The whimsical bloomies will win you over with their beaming smiles and laughter—drawing you back day after day to enjoy their company.
Bloomies is compatible with any iPhone, iPod touch or iPad running iPhone OS 3.0 or later.
[James Savage is the host of the RetroMacCast a weekly podcast devoted to older Macintosh computers. With no windows in his office, virtual gardens are the way to go.]