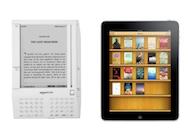 Amazon.com CEO Jeff Bezos says that his company won't try to make the Kindle more iPad-like. At the company's annual shareholder meeting Tuesday, Bezos stressed that the Kindle targets what he calls "serious readers," while the iPad aims for a far broader audience.
Of course, the Wall Street Journal reports that Bezos added: "90 percent of households are not serious reading households."
The Kindle, almost strictly a pure reading device with only a rudimentary Web browser, uses an e-ink screen and cursor-based navigation. The iPad, on the other hand, offers multiple apps for reading—Amazon's Kindle app among them—along with thousands of other apps, on a bright, full-color LCD with a multitouch interface.
Bezos said that Amazon could easily add a color LCD screen to the Kindle, but that e-ink provides for a better reading experience. In direct sunlight, there's no question that the Kindle's e-ink display is far easier to read than the iPad's glossy, reflective screen. But after a couple months with the iPad, I've concluded that it makes an excellent e-reader, with some notable advantages over the Kindle.
Even if the iPad starts cannibalizing Kindle sales—which would be hard to confirm, since Amazon is notoriously tight-lipped regarding Kindle sales numbers—Amazon is still firmly entrenched in the e-book marketplace, with its large and growing e-bookstore, whose selection dwarfs Apple's own iBookstore. Bezos told shareholders that Amazon's aim is to offer the largest selection with the best prices. Apple's entry into digital reading, as you may recall, caused a seismic shift in e-book pricing models, and Bezos said customer patterns have changed now that so many books are priced above the previously standard $10 price point—though, as is his custom, he wouldn't provide further details.
I do wonder whether Bezos's claim that Amazon is choosing to focus on "serious readers" can be taken purely at face value. Apple obviously has a massive head start with the iPad, and the company's decades of relevant technical experience. Contrast that with Amazon's nascent tiptoeing into the worlds of hardware and software design, and it's easy to imagine that Amazon could be "choosing" not to build a "KindlePad" out of necessity: perhaps it's not just that they won't, but that they can't.
But even if Amazon can continue churning out new and better e-ink, cursor-based Kindles, can the dedicated e-reader hardware device remain a sustainable model on its own? For a close analogy in Apple's own world, try this thought experiment: Will scroll-wheel iPods continue to have a place in Apple's inventory when multitouch iPod interfaces (on the iPhone, iPod touch, and iPad) can be gracefully coupled with so much other technology?