The widely-distributed tech publication Wired magazine has finally expanded into the mobile world with its much-anticipated iPad app. Designed from the ground up to maximize the iPad's interactive reading experience, the Wired iPad app, which retails for $5 per issue, is packed with stunning graphics and interactive features galore.
This month's issue includes a boat-load of those interactive features, like a Lego Lamborghini that takes shape step-by-step as you slide your finger across the screen, an interactive map of Mars, audio clips of Nine Inch Nails frontman Trent Reznor's work in progress, and a number of rotatable 3D images. Of course, all of these features come at the expense of a pretty hefty size—the app uses up a whopping 527 MB.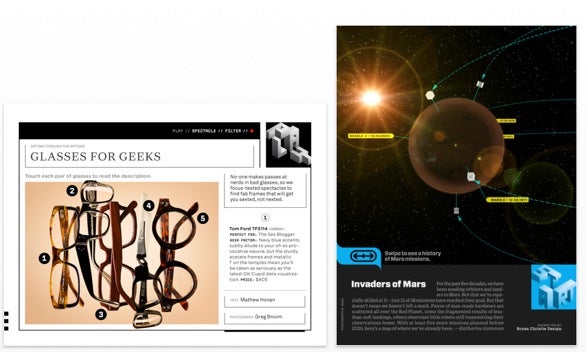 Ironically, the app's cutting edge digital publishing technology was developed by none other than Adobe, whose popular Flash software has been notably excluded from all of Apple's mobile devices. Fortunately, the Wired folks were able to work around Apple's no Flash policy, and now with Adobe's technology they can simultaneously create content for both the print magazine and the enhanced digital version with the same set of authoring and design tools.
So how does the app measure up to the hype? Early reports praise the app for its ambitious design, smooth interface, and impressive graphics, but complaints include the high price of the digital issues, too many ads, and a few minor bugs. The most nagging question is whether or not Wired will offer a cost-saving subscription plan for its iPad edition. Currently, the print version offers a one-year subscription for $10. Whether or not Wired goes with a similar model for its iPad edition could greatly determine its future success. In the meantime, check out a clip of the app in action below.
Read more…