Editors note: The overwhelming consensus from our readers is that the easiest way to deal with unwelcome SMS messages is to call your iPhone's carrier (AT&T in the U.S.) and ask that all SMS messaging be switched off. Many here have met with success using this technique. It does switch off all SMS messages, however. If you're keen on blocking just specific numbers or creating blacklists or whitelists to control the SMS messages you receive, read on.
Reader T Gregory Orf finds his iPhone a little too accessible. He writes:
I have an iPhone 3GS. I haven't paid for a texting plan.The problem is that advertisers have found my phone number and text me. I receive from five to ten unsolicited texts each month. Is it true that AT&T charges 20¢ for incoming text messages when you don't have a text plan? And how can one block receiving all text and messaging to the iPhone?
Yes, it's true that you're charged 20¢ for each incoming text message when you don't belong to a message plan (which start at $5 per month for 200 text messages). AT&T suggests that should you be troubled in this way you sign up for its AT&T Smart Limits for Wireless, which costs, coincidentally, $5 a month. This is a service mainly designed to manage a child's use of a mobile phone by limiting it in various ways. One of those limitations is that you can block specific phone numbers. Regrettably you can't block all incoming text messages using Smart Limits, which means this will help you very little unless these messages come from the same source and you can identify the number.
If Smart Limits doesn't appear to be what you're looking for, try calling AT&T and explaining the situation. With luck the person you speak with won't spend all their time trying to sell you more services but rather find a way to block these messages.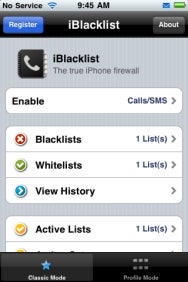 If AT&T is no help and you're feeling adventurous, you could jailbreak your phone and install an app called iBlacklist. If you're unfamiliar with the term, jailbreaking is the process of altering an iPhone OS device so that you can run code other than Apple's on it. When you jailbreak your phone you don't necessarily unlock it (make it possible to use with other carriers) but you certainly break your license agreement with Apple. Currently, jailbreaking is safe but there may come a day when it is less so. In short: Do it and you're on your own.
The easiest way to jailbreak modern iPhones, iPod touches, and iPads is Spirit. Once you jailbreak the phone, launch the Cydia application (which is installed along with the jailbreak), tap the Featured Packages entry, tap iBlacklist, and tap Install. The version that's installed offers limited blacklist and whitelist features. To get the full version—which lets you manage your calls, SMS, and MMS messages 17 ways from Sunday—you must pay $12 through PayPal. You can make that purchase via the application or from the iBlacklist site.