Retro is all the rage these days, and with Polaroids and vinyl records making a comeback with hip 20-somethings, it should come as no surprise that iPhone accessories are tapping their way into the '80s nostalgia market. The Yubz line of retro handsets are designed to look like the old, corded phones you grew up with—and they achieve that look quite nicely.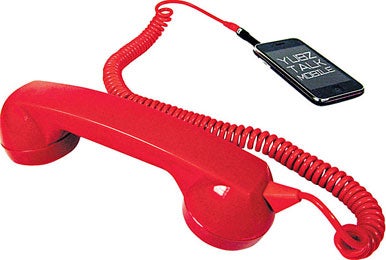 The Yubz Retro and Artist Retro Handsets are "old-school" handsets that connect to your iPhone's headphone jack via a retro coiled phone cord for what their manufacturer calls a "fun and fashionable" way to talk. Aside from the delicious irony that your Williamsburg-dwelling peers will surely appreciate, the handsets feature digital sound enhancement to ensure higher sound quality and reduced background noise; Yubz claims they can reduce radiation from mobile phone users by 96 percent—presumably because you won't be holding your iPhone to your head any longer.
Retro Handsets, which cost $28, are available in a variety of colors, but if you want your Retro Handset to come with funky graphic designs printed on it, you'll need to upgrade to the $56 Artist Retro Handset.
Finally, the Yubz Talk Online is a retro handset that connects with your computer via USB, letting you, as the name implies, talk online. While the thought of video Skyping someone while holding a large, chunky vintage phone to your ear might be appealing, with an $80 price tag, the Talk Online should only be considered by those who take their ironic sense of humor most seriously.