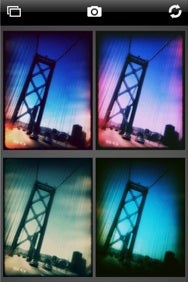 Let's face it: plain iPhone camera shots just won't cut it on Twitter and Flickr anymore. Your friends, family, and audience demand an artistic experience from the memories you capture with your iPhone camera's two or three megapixels. Red Giant Software has released Plastic Bullet to help you deliver.
Hopping on the plastic toy camera bandwagon with apps like Hipstamatic and ClassicTOY, Plastic Bullet shoots to add atmosphere and nostalgia to your photos. After snapping a new photo or picking an existing shot, Plastic Bullet offers four versions with varying levels of filters and effects like the infamous " Lomo." Oversaturated colors, vignetting, and other techniques are automatically applied, and you can refresh the set to get four new options. Tap one, and you can save it to your camera roll for safe keeping.
Fortunately, Red Giant Software didn't try to recreate a plastic toy camera interface like Hipstamatic and ClassicTOY. Plastic Bullet is delightfully minimal, making it easy to run right out and start shooting to play with the possibilities.
Plastic Bullet is available now in the App Store for $2, and it requires iPhone OS 3.0 or later.