At a Glance
Expert's Rating
Pros
Relatively easy to create simple remotes
Can control some functions with gestures
Cons
Can't edit templates
Won't learn all remotes
Not compatible with iPhone 4
Our Verdict
While the iPhone and iPod touch may be wonderful devices for performing any number of tricks, they're not particularly good universal IR remote controls when coupled with infrared dongles or cases. And they aren't for a variety of reasons.
In order to charge the iPhone/iPod touch you must remove the case or the dongle, so if your device is out of juice, you're out of luck. There's no tactile feedback when pressing a button so you have to keep a careful eye on the remote app's interface to ensure that you've pressed what you intended to. The iPhone/iPod touch's screen is small for this kind of work—there's a reason some remotes are large—so you have to either work with a remote with limited functionality, or move though several interface screens. A couple of these applications are "learning remotes," which require that you slog through the tedious process of pointing the original remote at the dongle or case and capture each button press. And those remote apps that use device databases invariably miss the mark with some components, requiring you to enter a learning mode.
Making this tougher for those interested in creating an iPhone/iPod touch IR remote is that dedicated alternatives such as Logitech's Harmony remotes are much easier to set up, provide greater functionality, and, in some cases, aren't significantly more expensive than their iPhone/iPod touch counterparts.
I arrived at these observations by testing a number of iPhone IR remotes including iGi's $70 i-Got-Control ( ), L5 Technology's $50 L5 Remote ( ), NewKinetix $70 Re ( ), New Potato Technologies' $80 FLPR ( ), and Power A's $60 iPhone Universal Remote Case ( ). Each of them includes some kind of IR device (a dongle or case) that attaches to the iPhone/iPod touch''s dock connector (currently Power A makes a case only for the iPhone 3G and 3GS, the case won't fit the iPhone 4). The accompanying app interface appears upside-down so that you operate the app with the IR port pointing away from you and at your equipment. Here's what I found.
Live and learn
All five of the remotes are capable of learning commands from hardware remotes. Only the L5 is strictly a learning remote. In order to configure the L5 you must have the original remote control from each component you wish to control. (Woe is you if you've lost it as you can't simply type in device codes.) You then point the original remote at the iPhone/iPod touch's remote's IR receiver and push buttons, which are then tied to virtual buttons in the app.
The Power A, i-Got-Control, Re, and FLPR apps all have databases of common brands. Using these databases you walk through a setup process where you tell the app the brand and type of gear you're creating the remote for (a Denon stereo receiver, for example). In the process, the app provides you with an opportunity to test the remote to ensure that it works. If the remote doesn't work, you can often try different preset codes until you find one that gets the job done. If no code is successful, you can use the app's learning capabilities—again, pointing the original remote at the iPhone/iPod touch's dongle/case and assigning individual button presses to buttons in the app.
Setting up and editing remotes
How you create and edit remotes with each app varies. Though some are easier to configure than others, none of them is dead simple or works as well as a dedicated remote. They shake out this way.
i-Got-Control: i-Got-Control's home screen includes Setup, System PWR, Add, and Edit buttons. Click Add to begin and a screen appears where you find a three-part selection wheel where you choose the device type (amplifier or TV, for example), the brand (Samsung, for instance), and remote code (something like 0262 or 0370). To help you discover which code is likely to work with your device, there are Test Power and Start Search buttons on this screen. Select a code, tap the Test Power button, and if the device switches on, you're on the right track. If not, choose a different code and try again. If you find this too tedious, tap the Start Search button and the app will try one remote code after another. When you find one that works, tap the button, which now reads Stop Search. Click Done and the device appears on the home screen.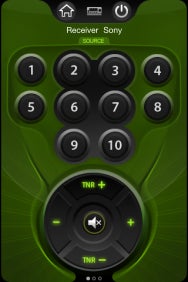 At this point you have access to three screens. The first two carry buttons commonly found on the device you're controlling. The third is for adding macro buttons—buttons that can trigger multiple commands. I was able to create a couple of successful macros but the app doesn't handle delays well. I attempted to create a macro that powered on my receiver, waited a couple of seconds for it to come to life, and then switched receiver inputs and I couldn't get it to work. Although the macro buttons include a button for inserting a delay between commands, there's no indication how long the delay is and no way to adjust its length. I could never make that macro work.
Also, you can't add buttons to the first two screens. So, for example, I created a remote for my TiVo. That remote lacked Thumbs Up and Thumbs Down buttons as well as a Live TV button. You can use the app's learning feature to assign these buttons to one of the number buttons found on the second screen, but you can't then label those buttons so you know what they do. You can label the macro buttons on the third screen, but it's a little inconvenient to flick through a couple of screens to get to these functions.
On a positive note, the i-Got-Control app does include the System PWR button, which allows you to power on and off multiple devices with the press of that single button.
L5 Remote: The L5 Remote—learning-only remotes—asks that you design your remote using elements found in tools palettes. So, for example, if you want to create a TiVo remote you tap a Plus button on the home screen to create and name a remote. Tap the name of the remote you just added and you're offered the option to create a custom or basic remote. When you create a custom remote you can drag elements—groups of buttons such as typical TV or DVD player controls or single generic buttons—on to the design area. Here you can arrange the buttons as you like, resize and rename them, and then teach each one its function using a component's original remote.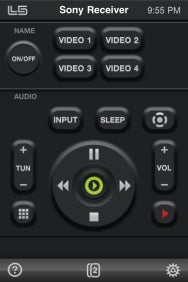 Choose a basic remote and you're presented with a layout that contains power, channel up and down, volume up and down, 0 to 9, and mute buttons. You're welcome to add additional buttons by tapping the Design button at the bottom of the screen and dragging buttons into the design area.
Additionally, the L5 Remote app lets you create macro buttons. To use one, first create buttons for the functions that you want as part of your macro—power buttons for your TV, DVD player, and receiver, for example—and then assign those buttons to the macro button. You can assign pauses between button presses in a macro—a good thing as some functions don't become cooperative until a component has been fully switched on.
Regardless of which method you choose to create your remotes, doing so is a time-consuming process that requires a lot of fiddling. This app (and other iPhone remote applications) cries out for a computer-based application where you can create your remotes and then sync them to the iPhone.
Re: The Re asks that you create remotes based on rooms, devices, and activities. You start by creating a room you'll use the remote in—Living Room is the default. Tap the room you created and the next screen displays Devices, Activities, and Favorites entries. Tap Devices and then Edit in the next screen. A Plus button finally appears on this screen. Tap it and you can start creating a device remote. This is done by choosing a brand from a selection wheel, tapping Next, and choosing a device type from another selection wheel.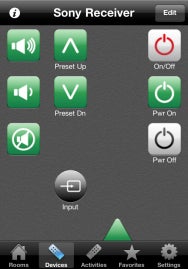 Tap Next one more time and you can test a group of device codes with On/Off, Volume Up, Volume Down, and Mute buttons. There's also a Start Search button that will try each code for you. When you find one that works, tap Stop Search and the remote will select the last one chosen. If the correct device code isn't in the database (as happened with my older Denon receiver) then you have to go to the trouble of teaching each button its job.
Once you've created the remote you can rearrange the order of buttons as well as delete buttons you don't need. The latter is a tedious process because the remote is often populated with extraneous buttons. To delete a button, double-tap it, tap Delete Button, and then tap Delete again to confirm your choice. Learning a button is just as many-stepped. Worse, the Re often failed to recognize the commands of the original remotes, reporting failures time and again. It eventually accepted the commands but its decision to do so seemed arbitrary.
The Re's macro function is called Activities. Using Activities you choose the devices you want to be part of the activity. You can also modify the Start button (the button that starts your devices and chooses inputs) by adding a series of actions to it. Again, this is a complicated process, particularly when a button that's on your AV gear isn't found in Re's list of suggested buttons. For example, I have a Sony receiver that contains buttons for Video 1, Video 2, and Video 3. There are no such buttons in the Re app, so I had to add a likely button, try it, delete it when it failed, and try again until I finally discovered that VCR was the correct button to use for Video 1.
FLPR: The FLPR app makes it easy to create remotes, but its database has far fewer brands than the other apps and it doesn't let you choose device codes—it either works with your gear or it doesn't. If the remote doesn't work (as was the case with my Sony receiver) you have to program each button using the app's learning feature.
You can't add or remove buttons to the template nor can you change their size or position. And the remotes the app creates are pretty limited. If you want to access other buttons, they might be found in a very long list of additional buttons that appear on a secondary scrolling screen. You can't configure this screen, so finding an obscure button more than once is frustrating. The FLPR app does let you create macro buttons, plus you have the option to enter a delay period of one, two, or five seconds to steps in the macro—handy when you have a component that needs time to start up before it will accept other commands.
Power A: The Power A is an iPhone case that holds the IR transmitter in the bottom of the case. In its first software iteration it was a bare-bones learning remote that offered a single template; didn't allow you to rearrange, resize, or delete buttons; and lacked any variety of macro feature.
Version 2 of the software brings significant changes to make the device easier to set up. It now includes a device database you can use to help create remotes for your gear. The software walks you through setting up each device. Just choose a manufacturer, device type (TV or receiver, for example), and then press power buttons next to device code entries to test that code. When you find a button that works, that's the beginning of your remote.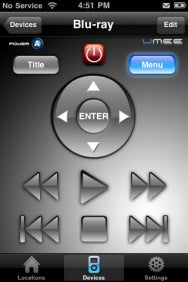 It's not the end of your remote, however, because the resulting remote screen is pretty bare. To duplicate some of my remotes I had to tap an Edit button, tap Learn New Button, choose a new button from a scrolling list, position it in the interface, and then teach it its function from the original remote.
Unfortunately, the app wasn't capable of learning all my remotes. While it had no difficulty learning commands for an LG Blu-ray player, it was completely stumped by the remote for my Sony AV receiver. It recognized the Sony remote and appeared to accept its commands, but they didn't work in the resulting virtual remote. If I were depending on the Power A remote to control my gear, this would be a deal killer.
A tough nut
The lesson that should be drawn from this collection of remotes is that creating intuitive and functional iPhone remote controls is an extremely challenging endeavor—and one that's still in search of a solid solution. Of the bunch, the L5 Remote comes the closest to offering something that can adequately control a living room full of AV gear. Yet capable though it may be in some ways, creating remotes with the app is a chore—it takes time and a fair bit of trial and error to get it right. And even then, it still lacks tactile feedback and confines you to a small screen.
Fascinated though I am by the dream of the iPhone/iPod touch as universal IR remote, I remain unconvinced that it can replace a good dedicated remote control. I look forward to the day when I'm proven wrong.