Spring is here, the bike shops are packed, pool stores are gearing up for the summer and in a few short weeks, the beaches will start to pack with eager swimmers. Unfortunately, you may have enjoyed the winter holidays a little too much, so that bathing suit you bought last year doesn't fit quite as well as it did before all that eggnog. Time for a trainer and a gym membership? Save your money—ShapeUp Club—Calorie Counter from Sillens will have you looking your best in no time.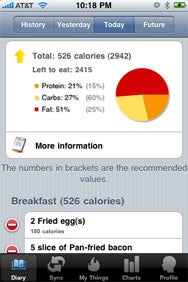 The success of this app lies in its ability to do something relatively complicated—detailed calorie counting—in a very simple manner. Start by entering some personal details such as your age, height, weight, sex, waistline and how much you'd like to lose in how much time, and ShapeUp Club will do its best to estimate your body mass index and how many calories you should be taking in every day. If you have dietary guidelines from a nutritionist, you can go into detail as to how many carbs, proteins and fats you'd like to use toward your daily value.
In order for this to work, you need to be as accurate as possible with the caloric intake, which is where folks doing these sorts of calculations by hand usually give up. However, ShapeUp provides an entry system that splits your meals up throughout the day. A library of foods provides access to nutritional data, and you can also access an online database created by ShapeUp Club users. Finally, the app gives you the ability to input data of your own if you have the nutritional info handy.
If you find yourself eating the same custom meals over and over, like the lunch you make for work every day, you can save that data for easy input every time. As with any good diet, regular exercise is recommended, and the application provides an easy way to enter any exercises you may have done to offset your daily caloric intake.
Finding the right information in the online database can be a little tedious, because so many people have submitted their own foods. For example, the database entry for "grilled cheese" can shoot back over 15 different results.
Once you start pumping information into the application on a regular basis, you can update your personal information to see scales of the progress you're making toward your goal. If you'd like to see a more detailed analysis of the information and interact with others working toward a nutritional goal, you can also sign up to at the ShapeUp Club Website for free to manage your profile and participate in the community.
ShapeUp Club invites comparisons to Lose It, another well-regarded nutrition tracker for the iPhone that's won raves for its excellent design. While the two apps share much in common, ShapeUp Club stands out by having its daily calorie allotment include the ideal ratio of protein, carbohydrates, and fat that you should strive for; once you enter a meal, you can see how your food intake corresponds to this ratio. In addition, the caloric limits ShapeUp suggests for different weight loss goals seem eminently sane and safe, and a slider helps you keep track of your daily water intake. (Hydration is essential to good health and quite often overlooked.)
I wouldn't give this application such a shining review without seeing it in real world practice—using this application, a friend of mine was able to lose 35 pounds in a little more than 80 days. Using it myself, I was able to find nutritional holes in my diet very quickly. A quick spin through ShapeUp Club, and you'll be amazed that you get this kind of functionality for free.
[Rob de la Cretaz is a full-time polymath and a proud resident of Pittsburgh.]