Its name—"Tvvitter" with two v's—looks like a typographical error in waiting. But TvvitterBug, a social networking client from Applegasm-Apps, is chock full of extras and services that aim to give iPhone and iPod touch users a complete Twitter experience. That sounds great in theory, but the $3 app is a little shaky in execution.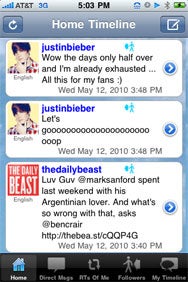 The problem with a lot of mobile Twitter clients is that they leave so much out, usually in the name of simplifying things while you're on the go (because, of course, you can always send more elaborate photo and video tweets from a computer). TvvitterBug takes the opposite approach, adding all of Twitter's enhanced services in the app.
When you first launch the app, a prompt pops up asking you to go to the TvvitterBug section in your Settings app to add your account information for up to five different profiles. Why you can't do this from within the app, I don't know. When you've got the app running, its home page is the standard feed you'd see on the Web.
TvvitterBug's next tab keeps a feed of direct messages, which is simple enough. But then things start to get weird. The Search tab is a collection of random tweets from people I've never heard of or seen—perhaps they're other TvvitterBug users. But then, next to it, there's a Public tab with yet another feed of random tweeters. Who are these people and what are they doing here?
The answer is found in the top left corner of the screen, because that little arrow icon may look like a refresh button, but it's actually the options button. There you can change those two feeds to show several different categories of tweets, such as your mentions or retweets. Maybe the curly arrow button is just an unfortunate style choice, but none of this customization is at all obvious.
The last tab is your personal timeline. One cool feature is that when you tap on a tweet, a toolbar pops up with options to reply, retweet, follow as a favorite, or add the user to a list. Still, I couldn't figure out several things about TvvitterBug, because the app doesn't include a help section.
And some help is definitely in order when using TvvitterBug. For instance, there were lots of options in the tweeting form, such as four choices of Website to use when tweeting a photo—very cool. But when I tapped the URL-shortening button, nothing happened. And when I selected the "Post through Host" option before hitting send, nothing showed up on my feed. What host? There's no section in the app to find out what any of these things is supposed to do. If Applegasm would just include an information section somewhere in the app, a lot of these problems would be solved. All the features in the world don't mean anything if they're not intuitive.
Otherwise, TvvitterBug is a multidimensional app with a nicely organized interface and tons of potential. But right now, especially for $3, the hassle of figuring it out just isn't worth it.
[Meghann Myers is an editorial intern for Macworld.]