If you've ever wanted to create a cartoon-style image of yourself but don't have the time or artistic skill to make it happen, you should check out ToonPaint. Developed by Toon-FX, ToonPaint makes it very easy to create those really cool cartoon images you've seen in places such as the movie A Scanner Darkly or those Charles Schwab television ads.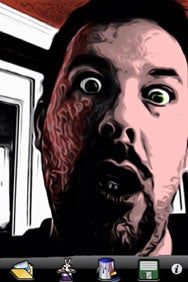 To start, you decide whether you want to work with an existing photo or take a new one with the iPhone's camera. Once you have chosen a photo, ToonPaint automatically produces a "MagiSketch"—a cartoon-style sketch of your image.
You can adjust the resulting sketch using sliders at the bottom of the screen. The edges slider determines the amount of edge hardness while the black and gray sliders determine the amount of black or gray in your sketch. You can also toggle between hard and soft sliders for a more soft- or hard-edged look.
An advanced tab offers even more variables for you to tweak. There's coherence, which determines how closely the sketch follows the lines in your source image—larger values can produce some weird and interesting results. Edge width and edge length determine the length and width of the lines in your sketch. A soften button will soften out all the features of your sketch, giving everything a smoother look and feel. With all these features and options, you could spend hours in ToonPaint tweaking your creation.
Once you have your sketch the way you like it, you can start adding in color to complete the cartoon look. Four color swatches along the bottom of the screen will hold colors for you as you paint. Tapping on one of these color swatches selects that color; a double tap lets you change the color. You select colors via a rainbow color picker, which allows you to pick virtually any color there is. You can also use an eyedropper tool that will pull colors from the canvas or even colors from the original source image.
A slider lets you adjust the size of the brush. When you zoom in (by using the iPhone's standard pinch gestures), the size of the brush scales down automatically and then scales back up when you zoom back out. I really thought this was a great feature, since when you zoom in, you always need a smaller brush.
An undo button will undo or redo the last stroke you made; you can also opt to erase all the paint at once. Unfortunately, you can only undo one step, so if the mistake was two steps back, you'll just have to paint over it in white—think of it as an eraser. After you're done with your masterpiece, you can save it to your camera roll as just the sketch or the sketch and color.
I was really impressed with the quality of the results I got using ToonPaint. Not only did the images look awesome, but creating them was both easy and fun.
[Tim Mercer is a technology enthusiast, graphic designer, and blogger, whose blog, digital-artist-toolbox.com, offers free resources to the digital artist and graphic designer.]