If you've ever read "choose your own adventure" books, Fighting Fantasy: Deathtrap Dungeon (based on the original Fighting Fantasy book by Steve Jackson and Ian Livingstone) will bring back some fond memories. Developed by Big Blue Bubble, this reading-centric iPhone app is part adventure story, part role playing game.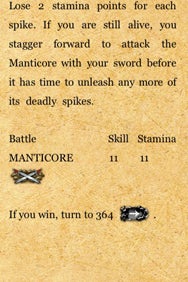 Those who enjoyed the books will appreciate that Fighting Fantasy: Deathtrap Dungeon stays true to its written form—it is literally the book as an iPhone game. If you've never read or "played" through the books, you can read through the (rather lengthy) instructions—though, as the iPhone version has virtual dice and keeps track of your progress, most of the instructions are not applicable (e.g. you don't need to know how to score things, because the app will score things for you).
Gameplay is very simple. First, you roll dice (you can either shake the iPhone to roll dice, or tap the "shake" button) to get your Skill, Stamina, and Luck points, and then you turn to page one…and read. After the first few pages, the choices begin—go east, or west? Follow the footsteps, or don't? Read the poem, or don't? The game warns that there is only one true path through Deathtrap Dungeon, and, of course, death lurks around every corner. When you encounter monsters, you are usually expected to fight them (to fight them you simply roll two dice for the monster, and then roll two dice for you—whoever comes out on top deals two Stamina points).
The game remembers what choices you have made (e.g. whether you picked up that potion or not), and your future choices are limited accordingly (the one drawback of the electronic medium—in the books, if you hadn't picked up the potion, you could just pretend that you had and then turned to the corresponding page, but in the game, said corresponding choice is grayed out if you haven't picked up the potion). You can, however, go back a page (or two) if you happen to make a fatal mistake.
My only real issue with the game was that it crashes somewhat frequently (about four times in two hours), though it always saves the game so you can go right back to where you left off. Other very minor issues included occasional lag when pressing buttons or rolling dice, and a tiny glitch in which you are asked if you would like to abandon your weapons and if you choose not to abandon them you still get a message saying that you have "lost all your weapons" (the same message you get if you choose to abandon them), though you do not actually lose them.
The crashing issue aside, Fighting Fantasy: Deathtrap Dungeon is a fantastic representation of the Fighting Fantasy series, and a must-have if you've ever even picked up a "choose your own adventure"-type book. At $2.99, it's even cheaper than the original books.
[Sarah Jacobsson believes writing for Macworld is the greatest adventure she's ever had.]