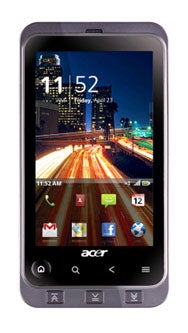 Acer offered a preview of its upcoming Stream smartphone at a press conference in Beijing on Thursday.
The Stream has a unique screen layout, using its status bar as a divider between application icons at the bottom of the screen and application history at the top. Applications like Facebook, the Twidroid Twitter client, Spinlets, and Nemo player will come preinstalled on the phone.
Running Google's Android 2.1 operating system, the Stream has a 1GHz Snapdragon processor from Qualcomm, 512MB of RAM, 2GB of internal Flash memory, and comes bundled with an 8GB memory card. The phone has a 3.7-inch AMOLED (Active Matrix Light Emitting Diode) touchscreen and can playback high-definition 720p video on a high-definition TV via an HDMI output.
The handset is 11.2 millimeters thick and comes with all of the wireless capabilities and goodies you'd expect on a smartphone: Bluetooth, Wi-Fi, HSPA (High-Speed Packet Access) with download speeds up to 7.2 Mbps, a 5-megapixel camera, and a GPS.
The Stream will be available during the second half of this year. Pricing was not disclosed.