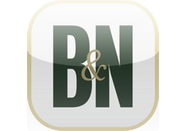 Barnes & Noble on Thursday released BN eReader for iPad, a free e-book reader that competes with Apple's iBooks and Amazon's Kindle apps. Since BN eReader uses the same e-book store that powers the company's Nook e-reader, the app can access more than one million titles.
Like the Kindle app, BN eReader dumps you out into Safari if you actually want to buy books (while iBooks lets you make those purchases from within the app). But unlike both of its big competitors, BN eReader offers a host of visual customizations: beyond the font and its size, you can also tweak the text color, the background color, the justification, and the leading—and you can save your creations as personal themes. The app also includes a few built-in themes for nighttime reading and the like.
BN eReader integrates with Barnes & Noble's LendMe technology, which lets you share eligible e-books with friends using Nooks or compatible reading apps. What the app doesn't do—yet—is sync your current page, highlights, or notes between the iPad version of the app and the iPhone/iPod touch version, though the company promises that's coming soon.
Also of note is that the BN eReader app has access to newspaper and magazine subscriptions, which the Kindle and iBooks apps currently don't support.
BN eReader is free and requires an iPad running iPhone OS 3.2 or later.