A huge number of people think they might write a book some day—back in 2002, a survey pegged it at 81 percent of Americans. But what happens after you've managed to pen your 200,000 word epic on love and loss in feudal Europe—with vampires, naturally—but still can't get a bite from a publisher? Well, now EuroVamp 3000 can line the virtual shelves of the iBookstore, right alongside the likes of Stephen King and Robert Parker, as Apple has opened up the ability to submit your own e-book directly to the iBookstore.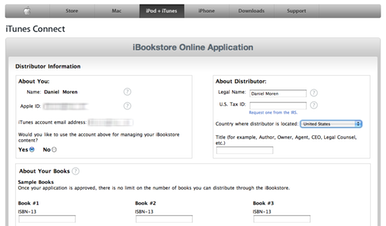 Previously, aspiring authors have been able to work with third-party aggregators with whom Apple has deals, such as Lulu, Smashwords, and Ingram. Those firms take care of a lot of the overhead, such as acquiring an ISBN for your book and making sure the ePub file checks out. However, there's now nothing to stop you from doing it yourself, if you prefer, now that Apple has added e-books as an option to iTunes Connect. Apple does warn you, however, that you may get paid faster by using one of those aggregators, as it doesn't pay out until the sales meet earning thresholds in various regions.
You'll need to provide some information before your book hits the digital presses. Besides an Apple ID, you'll need an ISBN for your book—which you can acquire here in the U.S. and here elsewhere in the world—and you'll also need a Tax ID from the IRS (also known as an Employer Identification Number).
Once your application has been approved, Apple says you can submit as many books as you want to the iBookstore. Of course, you'll still need to create an ePub version of your title, then validate it, and finally submit it to the store for sale.
Self-publishing has long been a venue for those who have been unable to publish their books through other means, but the addition of self-published titles to the iBookstore removes even more of the barrier to entry for aspiring writers. For one thing, it legitimizes their endeavors by putting their books on equal footing with titles from the major publishers.
Some might argue that publishers act as a filter, making sure that the under-par material doesn't get through to our delicate eyes, but I'd disagree: plenty of poorly-written books make it onto bookshelves anyway (ever browsed the carousels at an airport newsstand?) and many good writers languish in obscurity. It's unknown, however, whether Apple will act as a filter itself, vetting the titles as it does for software submitted to the App Store. I'd imagine the process is more akin to submitting your own music to the iTunes Store, but I was unable to find out for sure.
Speaking as someone who's written an unpublished novel or two—and yes, yes, I know you're all dying to read them—the ability to actually sell those works and perhaps even have people read them on the iPad, and soon the iPhone, is tremendously promising and liberating.