Desk lamps are commonplace on most office and home desks, but in the age of multipurpose devices, shouldn't your desk lamp do more than just glow? Hong Kong company M&C has taken the desk lamp into the 21st century with the $89 T'Light, an all-in-one LED desk lamp with integrated charging ability for most notebooks, mobile phones, and all iPhone, iPod and iPad models.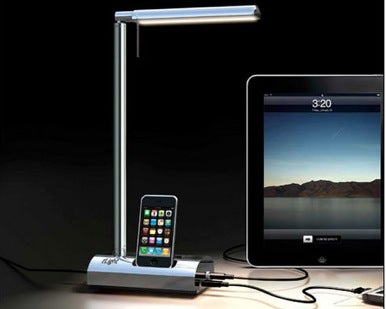 Dubbed "The Most Talented Light" by its maker, the T'Light boasts a sleek, minimalist design with a built-in iPod dock at its base. It also features a USB port for charging mobile devices and a power output for charging notebooks.
This high tech desk lamp helps eliminate the hassles of dealing with multiple power supplies on your desk by integrating them into a single source. Along with conveniently charging all of your electronic devices, the T'Light also promises to save energy with an environmentally friendly 3-Watt LED module. Shining through a special diffuser, the LED light gives off a pleasant glow and is built to last—M&C claims that its LED modules will provide at least 50,000 hours of use.
Marketed for international use, the T'Light will work with voltages from most countries and comes with a number of international jacks, plugs, and power cables. Charging for mobile phones is done via a USB port in the lamp's base, and a separate output provides power for notebooks. All said, you could potentially use the T'Light to charge your Mac, iPad, and iPhone all at once—not bad for a piece of office furniture.