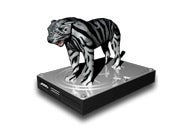 Your excuses for not backing up have just been reduced yet again. On Thursday, SubRosaSoft released CopyCat 5.0, a major upgrade to its drive duplication and backup software.
CopyCatX 5 boasts a new "file-by-file" mode in addition to its traditional full, bootable drive duplication approach. You can now cherry-pick specific files to backup, or use new presets for data like mail, pictures, and movies that may be scattered about your drive.
The new version also gained some significant performance improvements and a "streamlined, easier-to-use interface," as well as full support for Mac OS X 10.6 Snow Leopard.
These new features complement CopyCatX's existing abilities, such as duplicating iPod disks or creating a full bootable copy of your Mac OS X startup drive. CopyCatX can also clone drives from other platforms, including Windows (say, in a Boot Camp partition), Linux, and even your TiVo.
CopyCatX 5 requires Mac OS X 10.4 or later, and a demo is available. Owners of version 4 can upgrade for $20, and new licenses cost $60.