At a Glance
Expert's Rating
Pros
Relatively easy to create simple remotes
Can control some functions with gestures
Cons
Can't edit templates
Won't learn all remotes
Not compatible with iPhone 4
Our Verdict
Power A's $60 Universal Remote Case is one of a bunch of universal IR remote devices/apps for the iPhone. Unlike other IR remotes, this one is encased in a case rather than found in a dongle that connects to the iPhone's dock connector port. Currently, the Universal Remote Case fits only iPhone 3G and 3GS models—the case isn't compatible with the iPhone 4.
Like other iPhone remotes, you operate the iPhone with the dock connector port facing away from you—and pointed at your AV components. The Remote app you use to control the Remote Case rotates 180 degrees to accomodate the IR transmitter's position.
At one time the iPhone Universal Remote Case was a bare-bones learning remote. Version 2 of the software brings significant changes to make the device easier to set up. It now includes a device database you can use to help create remotes for your gear. The software walks you through setting up each device. Just choose a manufacturer, device type (TV or receiver, for example), and then press power buttons next to device code entries to test that code. When you find a button that works, that's the beginning of your remote.
It's not the end of your remote, however, because the resulting remote screen is pretty bare. For example, my Sony receiver's remote is crammed with buttons. The Power A software provided me with just a power button, three inputs (which I couldn't rename), a mute button, and a volume wheel. To add the other buttons I normally use I had to tap an Edit button, tap Learn New Button, choose a new button from a scrolling list, position it in the interface, and then teach it its function from the original remote. You do this by pointing the original hardware remote at the bottom of the case, pressing buttons, and assigning those button presses to buttons in the virtual remote app.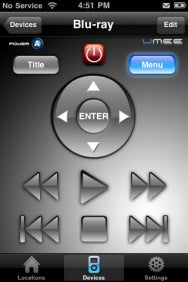 Unfortunately, the app wasn't capable of learning all my remotes. While it had no difficulty learning commands for an LG Blu-ray player, it was completely stumped by the remote for my Sony AV receiver. It recognized the Sony remote and appeared to accept its commands, but they didn't work in the resulting virtual remote. If I were depending on the Power A remote to control my gear, this would be a deal killer.
In addition to configuration improvements, the new software lets you assign gestures to common tasks. You can use two- and three-finger swipes to control volume, change channels, and switch devices on and off. And while you can now create setups for multiple locations—one setup for the gear in your living room and another for the kid's room, for example—you can't create a button that turns on all your gear with a single press, nor can you assign multiple commands to a single button.
Macworld's buying advice
The Power A Universal Remote Case is an interesting idea but, like other iOS IR remotes, it's a solution that doesn't adequately address the need for an easy-to-configure, easy-to-use universal IR remote. Obviously a new case design is needed for the iPhone 4. It's great that the app now includes a database, but that database needs more device codes. And if it doesn't have those codes, it should do a better job of mimicking the codes you teach it.