At a Glance
Expert's Rating
Pros
Configurable interface
Macro feature works well
Cons
Learning remote only
Complicated configuration
Our Verdict
Creating a successful iPhone/iPod touch universal IR remote has proven to be a very difficult task. The iPhone/iPod touch provide no tactile feedback, so you have to constantly look at the device to be sure you're tapping the right button; if the iPhone or iPod touch has a drained battery you can't use the remote; and the screens on these devices is small, making it challenging to recreate and operate complex remote controls. Of the many flawed efforts to create an iPhone/iPod touch universal IR remote, L5 Technology's $50 L5 Remote is the best of a not-very-good bunch.
The L5 Remote is a learning remote that includes an IR dongle that fits on the bottom of the iPhone or iPod touch and an app that flips around so that you operate it with the dongle pointing away from you. Learning remotes such as the L5 Remote require that you select a button in the app that you'd like to assign a function to, point a component's original remote at the dongle, and press the corresponding button on the hardware remote. The L5 captures the signal sent by the button press and assigns it to the selected button in the app.
The L5 remote provides two ways to create a remote. When you launch the app for the first time you're offered the option to create a custom or basic remote. When you create a custom remote you can drag elements—groups of buttons such as typical TV or DVD player controls or single generic buttons—from a tools palette on to the design area. Here you can arrange the buttons as you like, resize and rename them, and then teach each one its function using a component's original remote.
Choose a basic remote and you're presented with a layout that contains Power, Channel Up and Down, Volume Up and Down, 0 – 9, and Mute buttons. You're welcome to add additional buttons by tapping the Design button at the bottom of the screen and dragging buttons into the design area.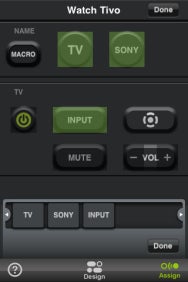 Additionally the L5 Remote app lets you create macro buttons. To create a macro button, first create buttons for the functions that you want as part of your macro—power buttons for your TV, DVD player, and receiver, for example—and then assign those buttons to the macro button by selecting them in order. You can assign pauses between button presses in a macro—a good thing as some functions don't become cooperative until a component has been fully switched on.
Regardless of which method you choose to create your remotes, doing so is a time-consuming process that requires a lot of fiddling. This app (and other iPhone/iPod touch remote applications) cries out for a computer-based application where you can create your remotes and then sync them to the iPhone or iPod touch.
Macworld's buying advice
The L5 Remote's requirement that you create virtual remote controls by pressing button after button is tedious, but the resulting remotes work. If you have a lot of patience (or very few components that you need to configure) the L5 Remote is a reasonable option. If you lack that patience or need to create a lot of remotes, I'd considerpurchasing a dedicated hardware universal remote such as one of Logitech's Harmony remotes.