At a Glance
Expert's Rating
Pros
Easy to use
Affordable
Supports JPEGS plus raw and movie files
Fast upload
May work with other USB devices too
Cons
Imported photos must live in All Imported album
No way to separate raw and JPEG files on import
Movie files are placed with pictures in the Photos app
Our Verdict
The Camera Connection Kit is one of the most important accessories for iPad toting photographers. The kit is easy to use, accommodates standard files, and provides a few pleasant surprises with additional, although unpredictable, USB device support.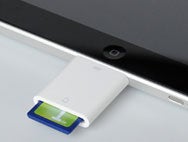 The Camera Connection Kit for the iPad is a perfect accessory for photographers looking to take advantage of the iPad's display capabilities. Instead of having to connect an iPad to a Mac to load it up with your photos and videos, you can move this content directly onto an iPad from a camera using one of two dock connectors in the kit. This kit is simple to use and turns the iPad into an excellent tool for photographers who need to back-up or preview photos in the field.
If you shoot with a camera that accepts SD memory cards, use the SD dock connector to transfer media (mini-SD cards can also be used with an adapter). Push the reader in the iPad's port and insert the card. If you shoot with another type of media card, such as CF, then use the companion USB connector. Attach the USB cord directly from your camera or try a USB card reader.
When you make a connection, the iPad's Photos app launches immediately and displays thumbnails for every image on the memory card. You'll notice that a new tab labeled "Camera" appears at the top of the app's interface. This tab remains for as long as you have media attached to the iPad.
Once connected, the iPad handles a variety of file formats with equal ease. You can import JPEG, raw, and even movie files. When you connect your camera or card, Images that have been previously imported from the device will display a green check mark on the thumbnail. If you shoot Raw+JPEG, a label denoting that pair will appear across the bottom of the image. Even though both files are transferred to the iPad, you will only see one thumbnail.
For my Canon S90, movie files were labeled MOV+THM because Canon cameras create an accompanying data file for its movies. Along these lines, if you somehow created an XMP sidecar file for one of your raw files (via Adobe Bridge for example), that too will be displayed on the thumbnail. If you export the movies to your Mac using Image Capture, the data files are transferred too. In my testing, however, the XMP files were not moved with the raw files, but the Raw+JPEG pairs were available as separate files.
You can browse all of the thumbnails on the card without importing anything to your iPad, but if you want to see bigger versions of the images, you have to transfer them. The simplest way is to tap the blue "Import All" button in the upper right corner of the Photos app screen. Or, if you want to choose just a handful of pictures to transfer, tap once on them. You can keep track of your selections via the blue check marks that appear when they are selected. Now when you tap the import button, the iPad will ask you "Import All" or "Import Selected." Make the appropriate choice.
Images are moved from the card to a new Album titled "Last Import." The photos are also added to a cumulative Album labeled "All Imported." Basically, this is where they live. Unfortunately, there aren't options within the Photos app for reorganizing your files. You do have multiple ways to browse your images, however. Click on the Events tab and you'll notice that the iPad has displayed your pictures based the their timestamps. Multiple images are placed in a stack that can be expanded by tapping or pinching. Geotagged images are organized under the Places tab. In this case, as drop pins that you can tap on to reveal the photo stack. And of course, everything ends up under the Photos tab.
Once the photos have been transferred, they are available for use just like any other image on your iPad. You can play slideshows, import into Keynote, share with others via email or MobileMe, or choose an image as your wallpaper.
If you want to copy imported images from the iPad with your Mac, just connect the two devices and launch iPhoto, Aperture, or Image Capture. You can import selected images right into your photo libraries.
Though not officially supported on Apple's product page, other USB devices may work with the Camera Connection Kit. Many USB microphones for example, are recognized by sound recording applications. Other devices don't fare as well, such as USB thumb drives that prompt messages such as "The attached volume could not be mounted," or "The attached accessory uses too much power." If you plug your iPhone or late model nano into the iPad via the Camera Connector, however, you can import videos and pictures from those devices to the iPad.
Macworld Buying Advice
The Camera Connection Kit is one of the most important accessories for iPad toting photographers. The kit is easy to use, accommodates standard files, and provides a few pleasant surprises with additional, although unpredictable, USB device support.
Senior Contributor and professional photographer Derrick Story teaches photography on Lynda.com and publishes a weekly podcast at The Digital Story.
Note: When you purchase something after clicking links in our articles, we may earn a small commission. Read our affiliate link policy for more details.