NFL 2010 HD for iPad is that rarest of video games: A licensed football game that isn't made by EA Sports. Gameloft does a good job of realistically depicting every tackle, catch, and play of a typical NFL game— and every NFL team is represented, with their full 2010 rosters available.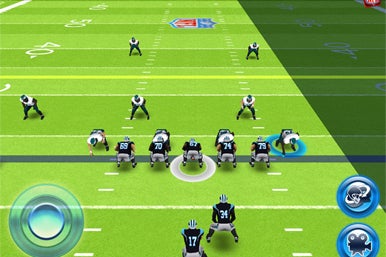 Sadly, football and multitouch aren't a perfect match for each other. NFL 2010 HD does a lot of things well, and offers plenty of enjoyable gameplay—but imperfect controls limit my overall enthusiasm for the game.
The game's first impression is an annoying one: It attempts to load a 30-second video every time you launch it. The video is skippable, but it's a wholly unnecessary annoyance. Once you've finally reached the main menu, things improve. You can start a quick game with a single tap, or you can choose to customize a game—including playing through a full season. Loading screens are mercifully brief and feature genuinely useful gameplay advice. And when your game gets underway, most of the controls are intuitive or easy to figure out.
One noteable weakness, though, is in NFL 2010's play selection. Oh, the game offers a massive playbook, in both beginner and advanced versions, and there are plenty of great plays to choose from. But the Cover Flow-inspired interface for choosing your plays is a frustrating mix of swipes and taps. You need to choose between beginning and advanced levels each play, and then swipe up. Then you choose your formation and swipe up again—and then you choose your formation variant and swipe up yet again. Finally, you swipe left and right to find the play you're after, and then tap a too-small "Go" button to complete your play selection. The more obvious approach here would be to show more play options on screen at a time to minimize swiping, and allow you to tap (or double-tap) the plays themselves instead of needing to dance your fingers between the plays and the tiny button. (Even more annoyingly, the NFL 2010 HD doesn't automatically put you into the special teams category on fourth down when you're playing defense. With all the swiping required to get there, that's extra frustrating.)
Gameplay itself feels pretty similar to other iPhone OS football games. You get a virtual joystick, and then contextual action buttons depending on the situation. On defense, you get spin moves to break away from linemen, and deflection/interception buttons for when you're defending against the pass. In some situations, the game automatically goes into slow motion to give you extra time to tap the right button. There's no time-slowing button ala Madden, but it's still an overall enjoyable experience.
On offense, your receivers each have their own oversized, highly-tappable icons. I find that the passing game is easier to execute well than the running game; even on simpler settings, the computer's defense against the run seems exceptionally talented at getting into the backfield.
Visually, NFL 2010 HD is a bit blocky, but satisfactory. The graphics take advantage of the iPad's superior graphical abiltiies and I never noticed framerate issues. On occasion, you'll encounter unintentionally comical imagery, when turning players reveal themselves to be nothing more than blocky, awkward polygons for an instant. But on the whole, the game's look is impressive. The sound quality is decent, though you'll likely want to mute the play-by-play commentary before too long, since it can get awfully repetitive.
As I mentioned at the outset, NFL 2010 HD is unquestionably fun if you're a football fan. But multitouch football by definition lacks the nuance and strategy that football games on other platforms can offer. I like having a native football game on my iPad, and it's certainly more realistic than Super Shock Football HD. Still, it seems that there's a maximum depth that iPhone OS-based football games can achieve, and it's not particularly deep.
[ Lex Friedman has cheered on the Philadelphia Eagles through numerous Super Bowl victories, all of which were achieved strictly in video game form.]