Remember "Operation," the board game in which you had to carefully remove plastic organs from the body without touching the metallic sides of the patient? Hand of Greed is sort of like that…but a lot cooler.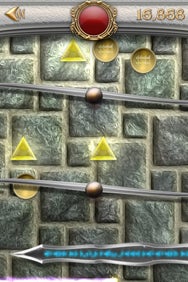 The concept is similar: instead of organs though, you have to collect valuable coins, jewels, and healing rubies by tapping them with your finger. The catch is you have to avoid getting hit by the spinning blades, guillotines, and saws as you grab the items.
Each level features a timer (located at the bottom of the screen) and a life meter (located at the top). You have to collect all the valuables before the timer runs out, but you only have so much blood to lose (3 strikes, to be exact). It's definitely a test of your hand-eye coordination.
The game is broken into five worlds with ten stages each, and each level is harder than the last. Each stage has several timed mini-stages in which you must collect all of the jewels. The graphics aren't stellar, but the animation when you accidentally hit a blade is cool—blood splatters across the screen, the screen flashes white, and you almost feel as though you have to pull your hand back.
If you liked Operation, or electrified-maze games, Hand of Greed will have you enthralled and frustrated for hours. The action is, literally, lightning quick, so I can at least guarantee that you won't get bored.
[Sarah Jacobsson's hand is faster than her eye.]