As launches go, the introduction of the iPad at Toronto's Yorkdale Mall, home of Apple's flagship store in Ontario, was a typically Canadian affair: a small, orderly, and enthusiastic crowd greeted the 8 a.m. opening with cheers and happy chatter. Notably absent were fans dressed as their favorite Apple device, people wearing homemade iPod jewelry, or the bleary eyes that identify those who had camped out all night, but at least there was plenty of Tim Horton's coffee—without which Canada probably would stop functioning—on hand.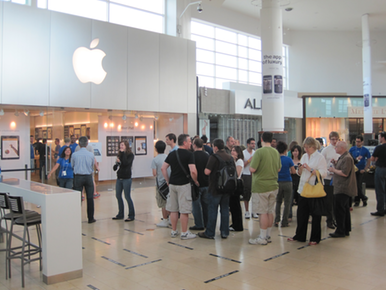 The lines at the store were not quite as long as the ones that formed in occasion of the device's U.S. launch on April 3, or, indeed, of those that various report indicate have formed at other locations throughout the world, likely due to the fact that many Torontonians live close enough to the American border (or travel to the States often enough) that they have picked up their very own iPad ahead of its launch, or pre-ordered one for delivery.
Casey Smith of Etobicoke (a Toronto suburb) belonged to both groups: "I bought a Wi-Fi model in Buffalo in April, and I hope to get my hands on a 3G model today, which should make taking the iPad on the road easier," he said while taking his place in line.
A smaller crowd meant a much more relaxed atmosphere, with Apple Store employees chatting with customers awaiting their turn into the store. Meanwhile, those who had just received their iPads stood outside, unpacking their new gadgets and comparing their app purchases.
As was the case with the U.S. launch, two lines formed outside the store—one for customers who had pre-ordered their iPad, and the others for those who were hoping to secure one without a reservation. The store was also offering instant activation for those who couldn't wait to unpack their tablets and connect them to iTunes on their own computers; judging from the crowds at the activation stations, that option was quite popular.
The launch of the iPad has been greatly anticipated by Canadians throughout the nation, particularly given the proximity to the U.S., where the device has been available for over two months. Earlier in May, Apple quietly "flipped the switch" on the Canadian iPad app store, enabling those without an American iTunes account to start making purchases for their devices. Canadian cellular providers Rogers Communications and Bell Canada both announced support for the iPad and introduced plans that, while not comparable to the unlimited access that AT&T offers in the U.S., are generous by national standards, with 250MB of data available for $15, and 5GB for $35.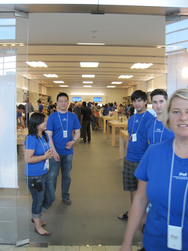 Both companies are making their data plans available without a term contract, which is virtually unheard of in Canada, where a few carriers need to compete for a relatively small customer base spread over a very large territory. Apple's Website initially indicated that Rogers was also going to allow existing customers with a smartphone to share their data plan on the iPad for a $20 monthly fee, but the cellular provider later backtracked and stated that the data-sharing option would not be available after all.
The difference between the U.S. and Canadian pricing of the iPad—$50 for the 16GB Wi-Fi model—didn't seem to be a problem for anyone in line. "That's a fair exchange rate, given where the U.S. dollar is at," said Jerry MacDonald, who was in line with his daughter. "It doesn't bother me at all."
Inside the store, in the meantime, customers wrangled with the agony of choice between the various models, accessories and cases. While store employees wouldn't release any numbers, sales seemed brisk and there was plenty of stock on hand.
"I came here worried by all the reports of shortages in the States," said Maria Papadopulos, who was in the stand-by line. "Luckily, it looks like I won't have a problem buying one today." Perhaps now Americans will visit the Great North in search for the elusive iPad, instead of the other way around.
iPad with Wi-Fi 16GB
Price When Reviewed:
$568
Apple iPad Tablet Computer
iPad (2010)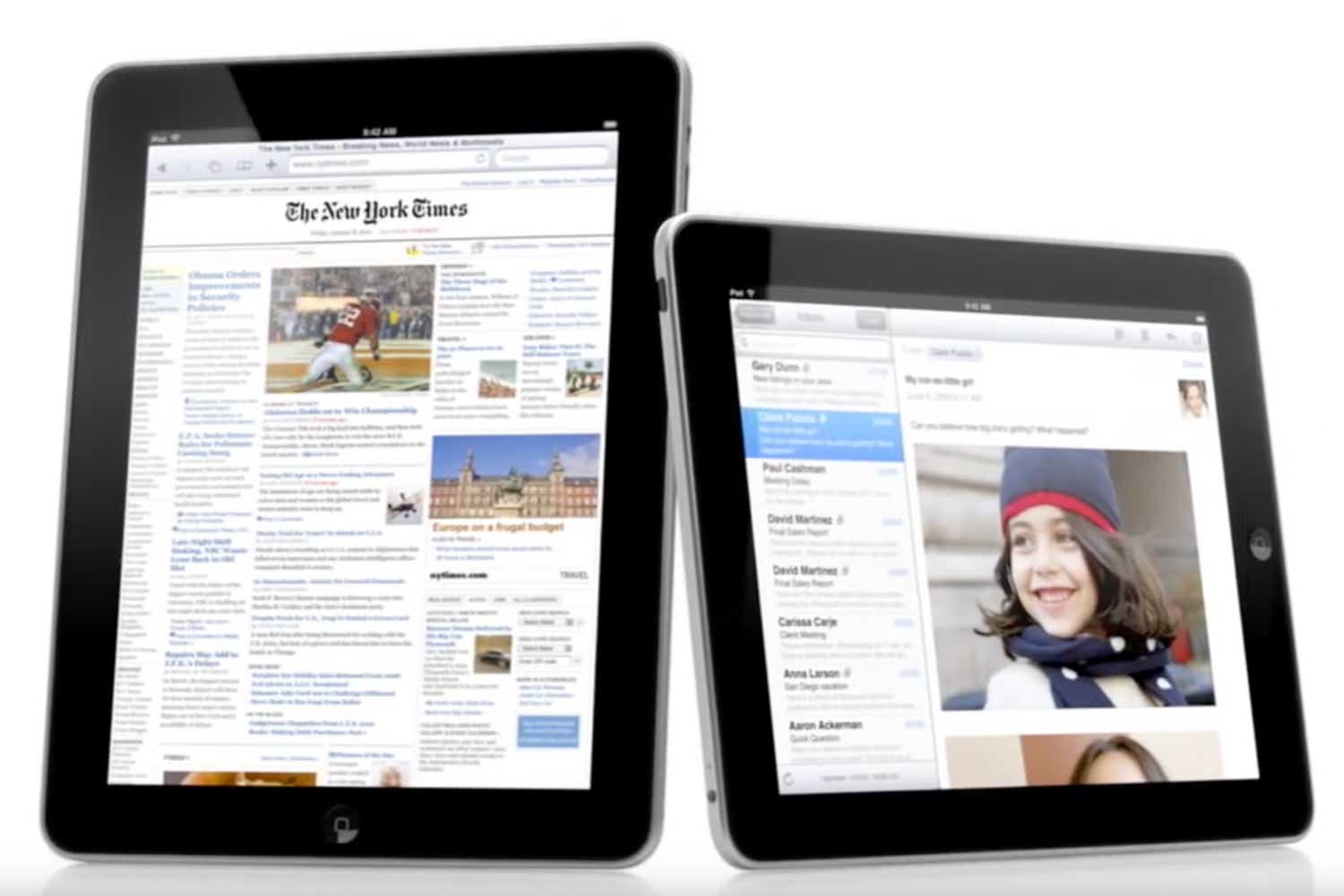 Read our full
iPad (2010) review
Apple iPad Tablet Computer