Editor's Note: The following article is reprinted from Macworld UK. Visit Macworld UK's blog page for the latest Mac news from across the Atlantic.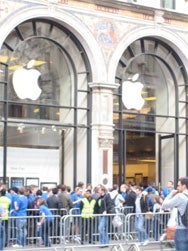 Customers waited in line over night to be certain of picking up one of the first Apple iPads to officially go on sale in the UK Friday morning. Apple Stores opened an hour early and many had queues building prior to the doors opening at 8 a.m., with the flagship Regent Street store attracting the biggest crowds and press attention.
Shop doors opened at 8 a.m. sharp, with delirious staff counting down the seconds, then whooping and cheering as the doors were opened and the first person in the queue—17-year-old Jake Lee—entered the Store. Lee was promptly mobbed by Apple Store staff and ushered into the shop. Upon leaving the Store, Lee had no comment to make, other than to say he'd been up for 24 hours, and was very tired.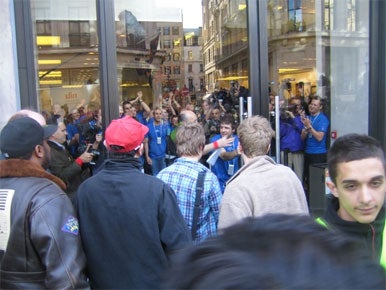 Security at the Regent Street store was tight, with up to seven security guards and three police officers manning the immediate front of the store, with many more security staff stationed in Hanover Street, where the queue continues.
People joining the queue at 8:30 a.m. were assured by Apple Store staff that there would be stock available for them to buy.
Queueing at the Regent Street store actually begun Thursday evening for Friday's launch. "I got here at 5:30 this morning, but I think the people in the front got here at 7 or 8 yesterday evening," said Frode Fjeld, a 37-year-old doctor from Norway. "I'm going to get a 64GB 3G version. I will use it for books and photos mainly. I will probably use it at work too—there will be apps designed for the medical profession I'm sure."
Brian, a 43-year-old computer programmer from London said he'd been told he was number 141 in the queue. "I was going to get a Wi-Fi version, but I think I've changed my mind and will go for the 3G version. Just so that if I am away on holiday and want to use the internet, I'll be able to."
He was also keen to try the iPad for reading: "I think I'll use it for watching movies and reading books. There's a really good comic reader for it too. I'll also play games. I play a lot of games on my iPhone, but this will be better."
Reading on the iPad was a common theme among customers—indicating that Apple's iBookstore could be a massive hit with iPad users in the UK, if the full service is launched here. Ivo Dantas, as 22-year-old journalist from Brazil, said: "I want to get an iPad because of the browsing experience and because of the reader. I have read lots of reviews and a friend of mine went to the US and touched one and he said books on it are amazing and I have to buy one."
Dantas was looking forward to taking his iPad home. "I have been in London for one month. I'm picking up an iPad now and then tomorrow I leave for Brazil."
Aside from movies, photos, and reading, some people are already thinking about other ways the iPad will be used.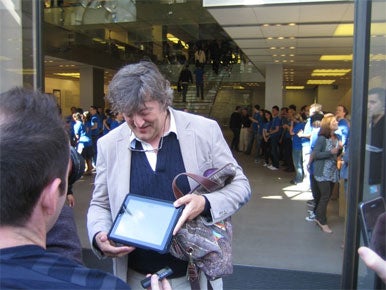 Chris McBride, 38, a film producer from London said: "I can imagine driving round in a minibus full of people and showing location information on it. It'll be phenomenal."
"I'll use it for watching movies on flights, and at home for RSS feeds. I must admit it's kind of a luxury item."
He also said that it's best to get the top-end model when buying Apple kit. "I'm going to get a 64GB 3G version. In the past when I've bought Apple products I lived to regret not paying for more memory. In three months time I won't miss the extra £100!""
At 55 Steve Bowles, a financial advisor from Chelmsford, is the same age as Steve Jobs. But Chelmsford Steve isn't really into computers, but was nonetheless brandishing a launch-day iPad. "I wanted something that is a recreational device, and I like the fact that you can put iPhoto on it, and I want to use it for reading so I don't have to cart lots of books around. Accessing books and downloading them looks to be very simple."
Bowles also stated the user's perception of the device sets it apart from other computers. "It's not a work device. When you're at work you've got your desk job and you use your emails and whatever else. In your mind that's to do with work. I wanted a computer that's just for fun, that I can use as a recreational device. It fills a gap, it's totally different in the market."
Apple iPad Tablet Computer
iPad (2010)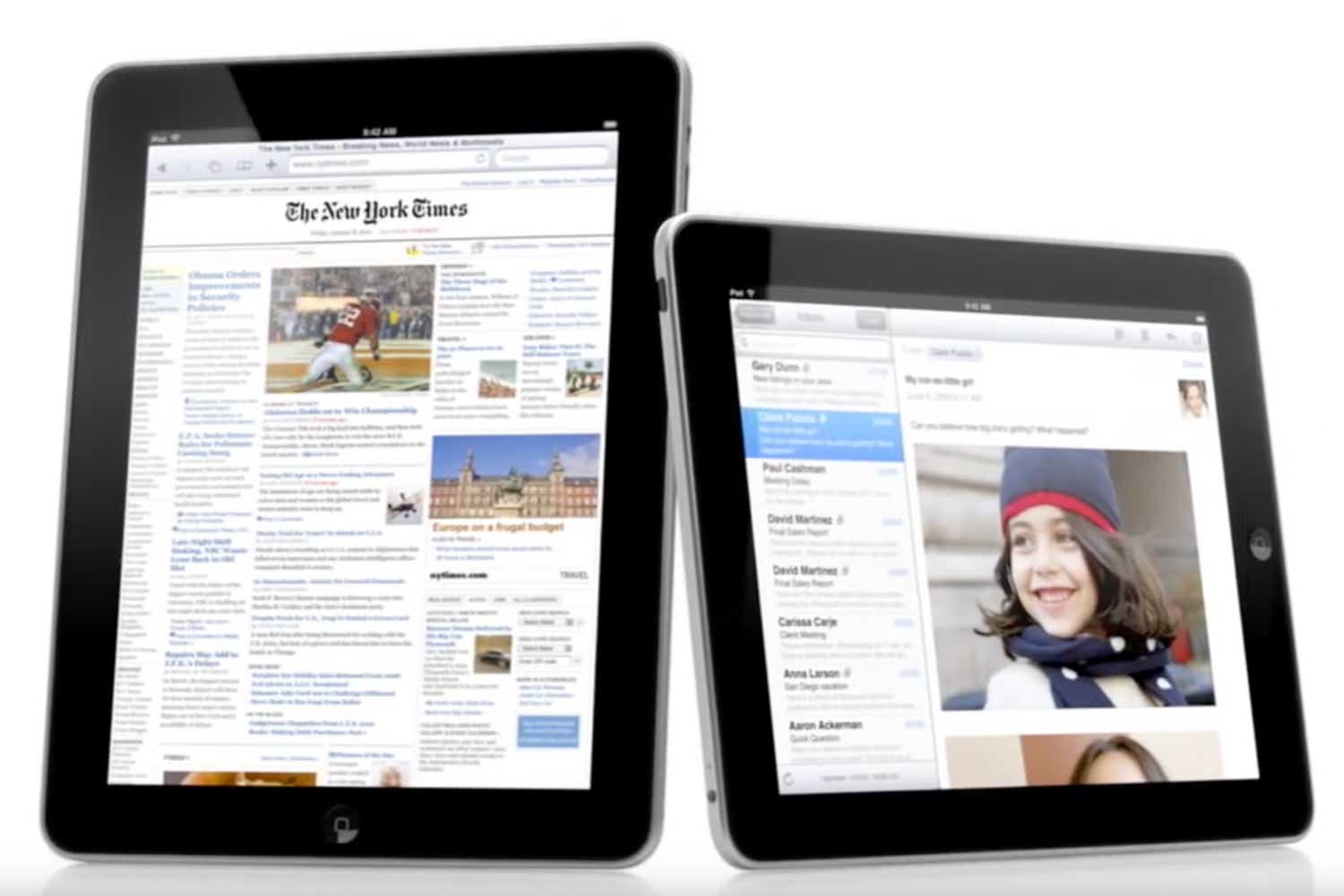 Read our full
iPad (2010) review
Apple iPad Tablet Computer
Note: When you purchase something after clicking links in our articles, we may earn a small commission. Read our affiliate link policy for more details.