At a Glance
Expert's Rating
Cons
Smaller brand database than competing products
Limited templates
No device codes
Our Verdict
New Potato Technologies' $80 FLPR iPhone/iPod touch remote is a universal IR remote for the iPhone/iPod touch that includes an IR dongle that plugs into the bottom of the iPhone or iPod touch and includes a free app for configuring and controlling remotes. It's one of the easier apps to work with, but the resulting remotes are very limited.
The limitations of the FLPR are first evident in its database. That database includes fewer brands than other similar products. Also, the app doesn't allow you to choose device codes. These codes tell the remote that pressing Power will turn a component on and off or that Play starts a DVD playing rather than bringing up a menu. Either the remote you create with the default device code works with your gear or it doesn't. If the remote doesn't work (as was the case with a Sony receiver I own) you have to program each button using the app's learning feature. (Learning is done by pointing the original hardware remote at the dongle, pressing buttons, and assigning those button presses to buttons on the virtual remote. It's a tedious process.)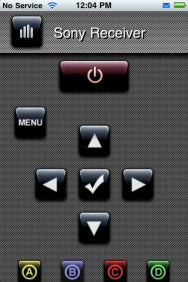 The templates offered by the FLPR app are limited—offering just a remote's primary buttons including such common buttons as power, volume up and down, mute, channel up and down, and menu. If you want to access other buttons, they might be found in a very long list of additional buttons that appear on a secondary scrolling screen. You can't configure this screen, so finding an obscure button more than once is frustrating. The templates can't be edited either—you can't add or remove buttons from the template nor can you change their size or position.
On a positive note, the FLPR app does let you create macro buttons—buttons that fire off a series of actions such as turning on multiple components. It's easy to create macros and there's a feature that allows you to enter a delay period of 1, 2, or 5 seconds, which is handy when a component needs time to fully start up before it will accept other commands.
Macworld's buying advice
Like other iPhone/iPod touch universal IR remotes, the FLPR is a flawed effort. Its templates are too limited, choosing advanced functions is too difficult, and its lack of device codes means you may spend too much time configuring unsupported components. A dedicated hardware remote control is a better choice.