At a Glance
Expert's Rating
Pros
Good selection of brands and device codes
Reasonably easy to create a remote
Cons
Dongle sometimes reluctant to accept codes
Macro delay feature needs work
Can't label buttons
Our Verdict
In an attempt to prove that the iPhone and iPod touch are capable of just about any multimedia chore (and to make money while doing so), a number of developers have created hardware and software that turns an iPhone or iPod touch into an IR remote control. iGi's $70 i-Got-Control is one of them. And like every IR remote made for the iPhone and iPod touch, it's a compromised effort.
The i-Got-Control IR dongle fits on the end of the iPhone or iPod touch. It's one of the bulkier dongles I've seen for this kind of application. Plug it in and you're prompted to visit the App Store and download the free i Got Control app. Launch the app and the interface flips upside down so that you operate the application with the bottom of the iPhone or iPod touch (which bears the IR dongle) pointing away from you.
To create a remote, tap an Add button on the app's home screen. A screen appears where you find a three-part selection wheel where you choose the device type (amplifier or TV, for example), the brand (Denon or Samsung, for instance), and remote code (something like 0262 or 0370). To help you discover which code is likely to work with your device, there are Test Power and Start Search buttons on this screen. Select a code, tap the Test Power button, and if the device switches on, you're on the right track. If not, choose a different code and try again. If you find this too tedious, tap the Start Search button and the app will try one remote code after another. When you find one that works, tap the button, which now reads Stop Search. Tap Done and the device appears on the home screen.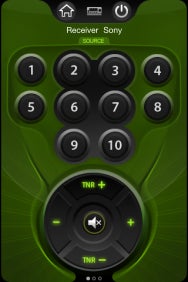 At this point you have access to three screens. The first two carry buttons commonly found on the device you're controlling. For example, a Blu-ray player includes play controls (Play, Pause, Stop, Previous, Next, Rewind, and Fast-forward), arrow and select buttons, and an Open/Close button for feeding or ejecting discs. A receiver includes volume controls and input buttons.
The third screen is for creating macros. I created a macro that fired up both my receiver and Blu-ray player and it worked as advertised. I had more difficulty when attempting to introduce a delay into the setup.
In that case I attempted to create a macro that switched on my receiver and waited a few seconds before it selected an input. While you can add a delay between commands (and I did) it seems the delay wasn't long enough. The second command never fired. Because I couldn't edit the length of the delay I never succeeded.
Also, although the i-Got-Control app will learn a hardware remote's commands, it's very sensitive about where you point that remote. Try as I might, I couldn't make the app accept commands from my remotes. I contacted the company and they advised me to point the hardware remote at the left side of the dongle rather than the middle. Even with these directions I still occasionally received a Can't Learn Code error.
Regrettably, you can't add buttons to the templates you're given. So, for example, I created a remote for my TiVo. That remote lacked Thumbs Up and Thumbs Down buttons as well as a Live TV button. You can use the app's learning feature to assign these buttons to one of the number buttons found on the second screen, but you can't then label those buttons so you know what they do. You can use the third screen of macro buttons to supplement the buttons found on the first two screens, but it's a little clumsy flipping through pages to find these extraneous buttons.
Macworld's buying advice
As far as iPhone IR remotes go, i-Got-Control is average. It allows you replicate your remotes, store those remotes on your iPhone, and setup a fair collection of gear. But the dongle is too picky about where you point the original remote, macros that require delays can't be edited, you can't change the layout of the templates, and you can't create custom labels for the remote's buttons. As I've suggested for every other iPhone IR remote app I've reviewed, a dedicated universal remote such as Logitech's Harmony, while a more expensive solution, is far easier to configure and operate.