At a Glance
Expert's Rating
Pros
Good brand database
Macro feature
Cons
Creating remotes is a complicated process
Our Verdict
NewKinetix's $70 Re iPhone/iPod touch remote is among a group of not-terribly-good virtual remote controls that include an IR dongle that connects to the iPhone or iPod touch's dock connector port and an app for creating and operating virtual remotes. Unlike a couple of other iPhone/iPod touch remotes, the Re includes a database for selecting components, specific brands, and device codes. The remotes you create with it work, but creating them is a practice in patience.
The Re asks that you create remotes based on rooms, devices, and activities. You start by creating a room you'll use the remote in—Living Room is the default. Tap the room you created and the next screen displays Devices, Activities, and Favorites entries. Tap Devices and then Edit in the next screen. A Plus button finally appears on this screen. Tap it and you can start creating a device remote. This is done by choosing a brand from a selection wheel, tapping Next, and choosing a device type from another selection wheel.
Tap Next one more time and you can test a group of device codes with On/Off, Volume Up, Volume Down, and Mute buttons. There's also a Start Search button that will try each code for you. When you find one that works, tap Stop Search and the remote selects the last one chosen. If the correct device code isn't in the database (as happened with an older Denon receiver of mine) then you have to go to a lot of trouble to teach each button its job using the app's learning feature. (Learning is done by pointing the original hardware remote at the dongle, pressing buttons, and assigning those button presses to buttons on the virtual remote.)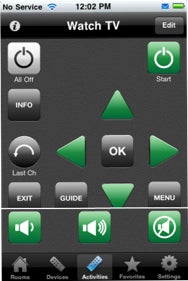 Once you've created the remote you can rearrange the order of buttons as well as delete buttons you don't need. The latter is a tedious process because the remote is often populated with extraneous buttons. To delete a button, double-tap it, tap Delete Button, and then tap Delete again to confirm your choice. Learning a button is just as many-stepped. Worse, the Re often failed to recognize the commands of the original remotes, reporting failures time and again. It eventually accepted the commands but its decision to do so seemed arbitrary.
The Re's Activities is its macro function. Using Activities you choose the devices you want to be part of the activity. You can also modify the Start button (the button that starts your devices and chooses inputs) by adding a series of actions to it. Again, this is a complicated process, particularly when a button that's on your AV gear isn't found in Re's list of suggested buttons. For example, I have a Sony receiver that contains buttons for Video 1, Video 2, and Video 3. There are no such buttons in the Re app, so I had to add a likely button, try it, delete it when it failed, and try again until I finally discovered that VCR was the correct button to use for Video 1.
Macworld's buying advice
Like every other iPhone/iPod touch universal IR remote, the Re suffers from the lack of tactile response and a small screen. Additionally, it takes a lot of fiddling to create working remotes. For an additional $15.48, you could have a Logitech Harmony 650 remote from Amazon that's far easier to configure and operate.